Opera by Giacomo Puccini on a libretto by Luigi Illica and Giuseppe Giacosa. Created at the Teatro Costanzi in Rome on January 14, 1900. Attended performance at the Monnaie Theatre in Brussels on June 15, 2021.
Floria Tosca: Myrto Papatanasiu; Mario Cavaradossi: Pavel Cernoch; Il barone Scarpia: Laurent Naouri; Cesare Angelotti: Sava Vemic; Il sagrestano: Riccardo Novaro; Spoletta: Ed Lyon; Sciarrone: Kamil Ben Hsaïn Lachiri; Pastorello: Logan Lopez Gonzalez; Un carceriere: Kurt Gysen
Symfonieorkest en Koor van de Munt; Conductor: Alain Altinoglu; Direction: Rafael R. Villalobos
Music: *** 3,5 ***
Direction: * ½ *
For this production, given the current corona limitations, a reduced version was chosen where the orchestra was reduced to about thirty musicians. The choir members sang from another room where the sound was transmitted live thanks to a system that gives the audience the impression of being completely surrounded by the voices.
This worked wonderfully and we were even surprised by some of the instrumental details that would be lost in the entirety of a full orchestra. Alain Altinoglu's tempos were a bit too slow for our taste. Even with this smaller orchestral cast, there could have been more tension.
Quite well sung
The reduced orchestral cast was a plus for the three main soloists, each of whom was actually too light for their roles in their own way. Myrtò Papatanasiu seems to us to be perfectly suited as Rusalka, but Tosca is out of her league. Her soprano voice is beautifully lyrical, sounds fantastic in the high notes, but she lacks the requisite projection power and drama which causes her to "poitrinate" (try to apply a forced deep timbre). All the notes are there, but you can hear that she has reached the limit of her ability.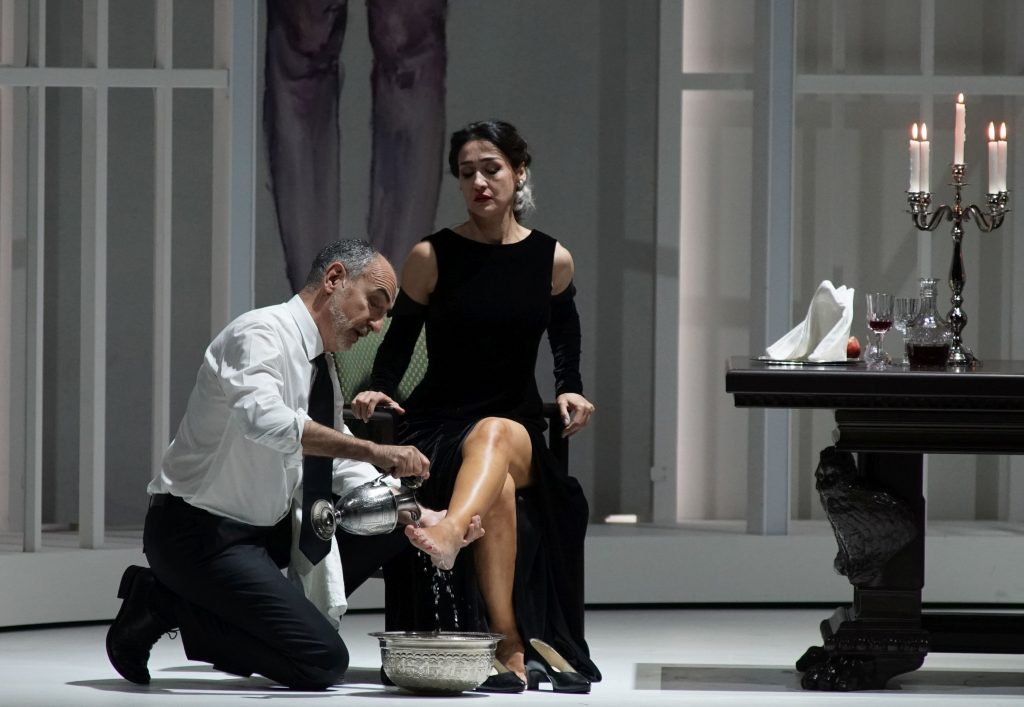 The same goes for tenor Pavel Cernoch, who didn't really charm in the first act, but certainly did in his last aria "E lucevan le stelle" thanks to some particularly beautiful pianos. He is somewhat neglected in this production and in terms of acting he gets little support, as all the director's attention is focused on Scarpia.
Lauren Naouri, of course, we all know for his unparalleled portrayal of the four roles (Lindorf, Coppelius, Doctor Miracle and Captain Dapertutto) in Les Contes d'Hoffmann and his finely crafted Golaud in Pelléas et Mélisande. His repertoire is rich and extensive: from Lully to Michel Legrand. Scarpia is a new challenge for him and he acts as if his life depended on it. However, he lacks two important requirements: the right style and the right voice. He too is at the limit of his possibilities here and the fortissimi and high notes are unfortunately more shouted than sung.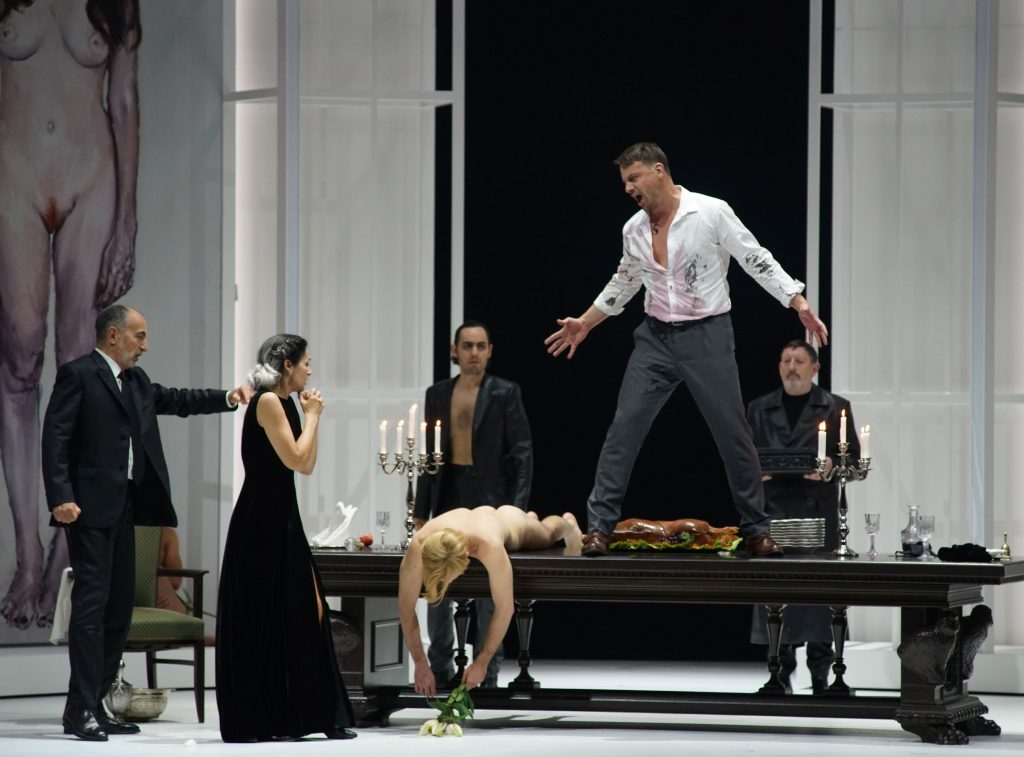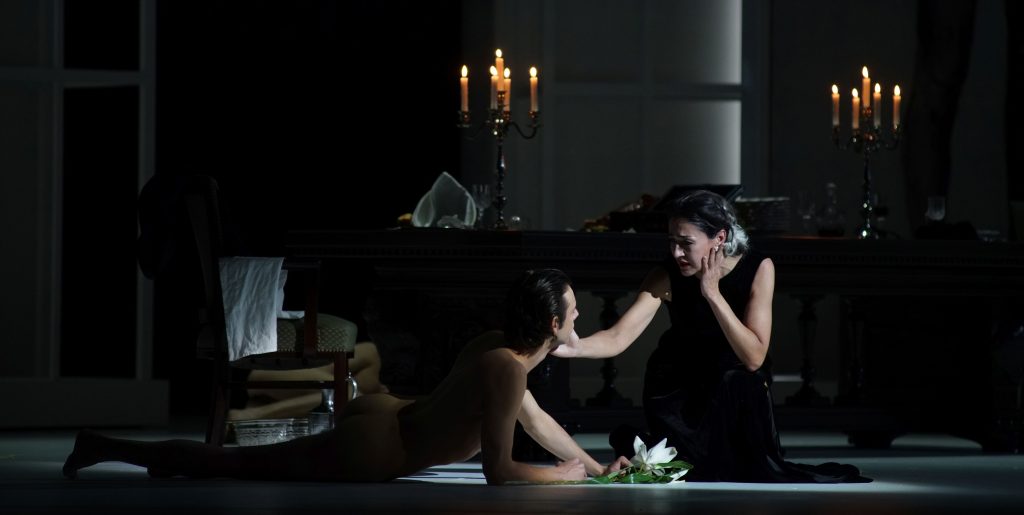 Pasolini and Salo
For us, a perfect direction is one where the actions, scenery and acting come across so naturally that the spectator simply forgets there is a director involved.
That was not the case for this production where every movement, every action came across as contrived and made up. With Calixto Bieito in mind, Spanish-born Rafael R. Villalobos made us suspicious in advance. And that was not premature, for they have much in common: an idea, however insane, that is skilfully worked out regardless of whether it fits in with the text and/or the action of the opera.
Nothing but praise, however, in the Belgian press. They talk about Caravaggio, Pasolini and the abused power of religion. Who among all those enthusiastic pressmen would really have seen Pasolini's 1975 film Salo o le 120 giorni di sodoma? A film set in northern Italy 1944-45 during the Nazi-Fascist occupation. We watched it before attending this Tosca and the only feeling the film evoked in us was a good portion of disgust. As a director, you have to be pretty much ripe for the madhouse to associate that with Tosca.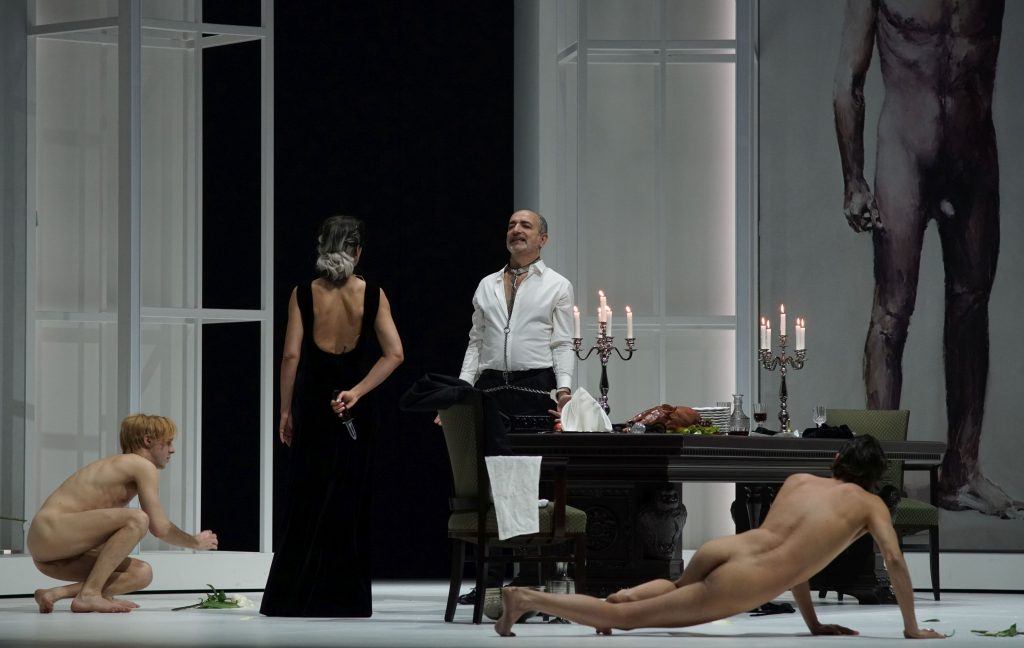 Tosca is an opera where music, libretto and stage directions are seamlessly matched, and if we take a close look at what happens on stage, we must conclude that everything is completely out of the blue. We are immensely annoyed by a direction where the cast is supplemented by characters who don't belong in it -let's call them dummies- and who run around like headless chickens to distract attention from the music.
Pier Paolo Pasolini is one of these dummies in this production, along with some gays who sometimes parade around dressed, sometimes in the nude. Urgent, modern and contemporary musical theater, those bare buttocks of men crouched down towards the audience….
Scarpia here is a real, perverted bloodhound, not the aristocratic baron who hides his true feelings. He ostentatiously washes Tosca's feet (yes, like Kundry and Parsifal…) and even sits with one of those naked gentlemen on his lap.
For those who want to see and hear it all for themselves there is a streaming on www.demunt.be.
A performance to be quickly forgotten.