TOSCA by Giacomo Puccini – Libretto by Luigi Illica and Giuseppe Giacosa.
Teatro Coccia, Novara (Italy) – May 27 and 29, 2022
Fabrizio Maria Carminati – Musical Direction; Renato Bonajuto – Stage Direction; Giovanni Gasparro and Danilo Coppola – Stage designers; Artemio Cabassi – Costumes; Ivan Pastrovicchio – Lighting
Charlotte-Anne Shipley – Floria Tosca; Luciano Ganci – Mario Cavaradossi; Francesco Landolfi – Scarpia; Stefano Marchisio – Sagrestano/Sciarrone; Graziano Dellavalle – Angelotti/Un carceriere; Saverio Pugliese – Spoletta; Giacomo D'ambrosio – Un pastorello; Orchestra Filarmionica Italiana; Coro San Gregorio Magno; Coro delle Voci Bianche del Teatro Coccia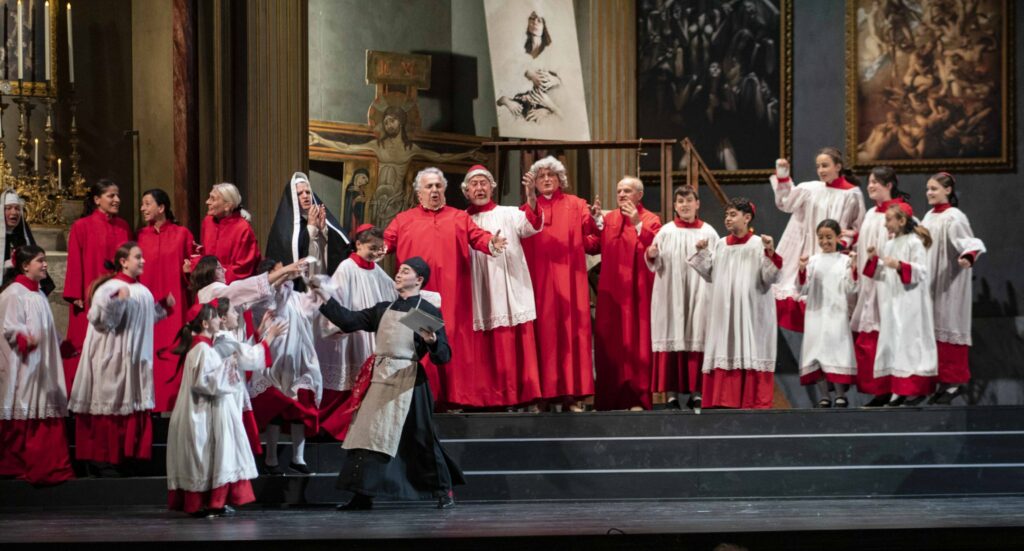 The glorious Italian "Provincia" strikes again… Or, rather, wins again at the Coccia Theater in Novara (the second-largest city in Piedmont after Turin) with this beautiful production. A Tosca looking like Tosca. This is undoubtedly the first thing the reader of this review needs to know. A Tosca rightly taking place in June 1800, and set in a church, in a palace and in a fortress. Of course, it is not necessary that the scenes are photographs of the places mentioned in the libretto. As we have already written several times, in our opinion a director's task is to "suggest" rather than to "show".
Therefore Renato Bonajuto and his collaborators, the set designer Danilo Coppola and the costume designer Artemio Cabassi, were right to focus much more on evoking an "atmosphere" than creating a photocopy. In fact, in creating this show, the idea of securing the collaboration of the painter Giovanni Gasparro – a well-known artist from Bari who mainly dedicates himself to sacred art, in a very effective and evocative neo-Caravaggesque style – was fundamental. The profusion of paintings (over thirty) exhibited mainly in Scarpia's studio, where they actually almost entirely cover the walls, creates that gloomy, oppressive and, at the same time, opulent atmosphere, which suddenly transports us to papal Rome (which in that historical moment, was occupied by the House of Bourbon in Naples), bulwark of the "Ancien Régime" against the new wave of libertarian ideas brought by the French Revolution.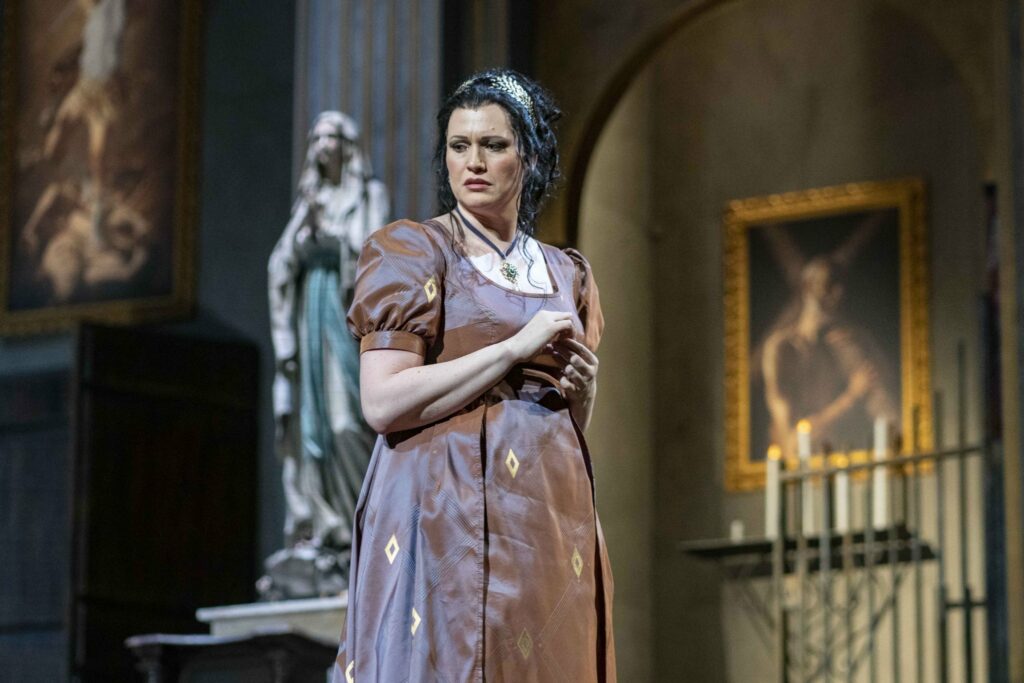 The scenes and costumes, therefore, integrated perfectly with the plot of Puccini's opera, to which the accurate direction adds some touches that may appear to be secondary, but are highly effective, such as the cops who cross themselves when entering Sant'Andrea, or Scarpia kneeling to pray ("bigot satyr"…), before expounding his rapacious and ferocious "philosophy" of life in his aria.
We don't think our readers will be too amazed to know that seeing this show once was not enough for us.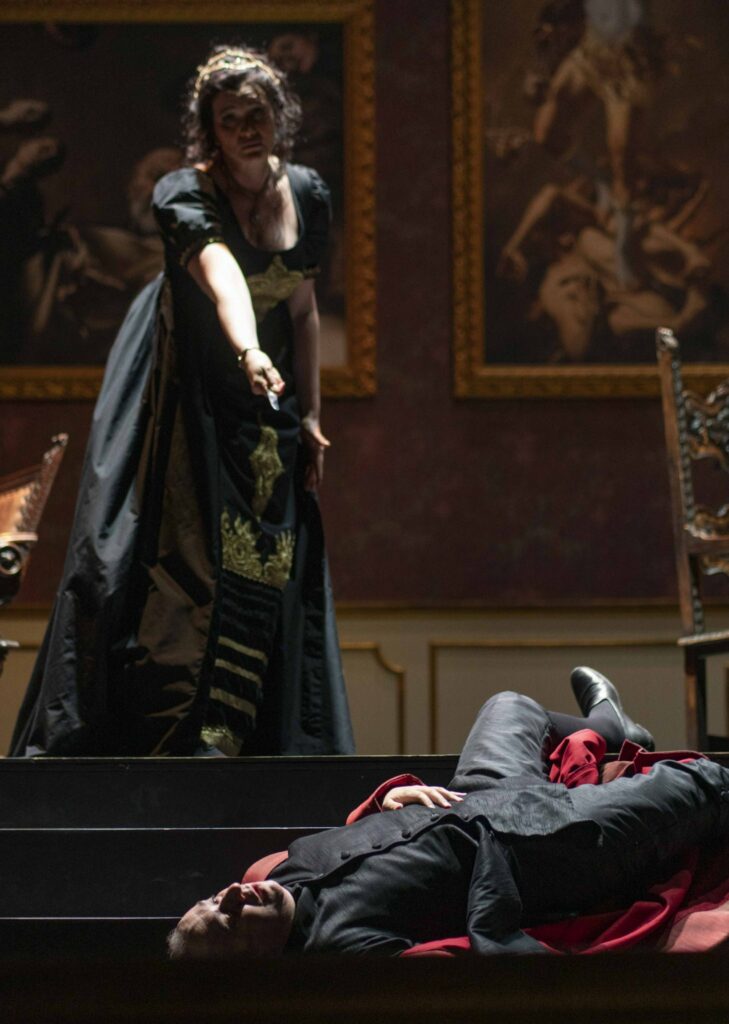 As we may have already written on other occasions, whenever possible we try to see more than one performance, partly to enjoy it better, and partly because – especially if there are great protagonists involved – we can often enjoy some subtle, but important differences. The double trip paid off, as although the first performance on May 27 was excellent, the second, two days later, was even better.
Tosca is an opera that above all needs a couple of great protagonists, and in this case we think that it would be difficult to find better ones.
We confess that we hardly knew the English soprano Charlotte-Anne Shipley at all, and she was a nice surprise. Shipley has the physique du role (which is not a must, but certainly does no harm…), and she moves on stage with effectiveness and ease. The voice is undoubtedly "right" for Tosca.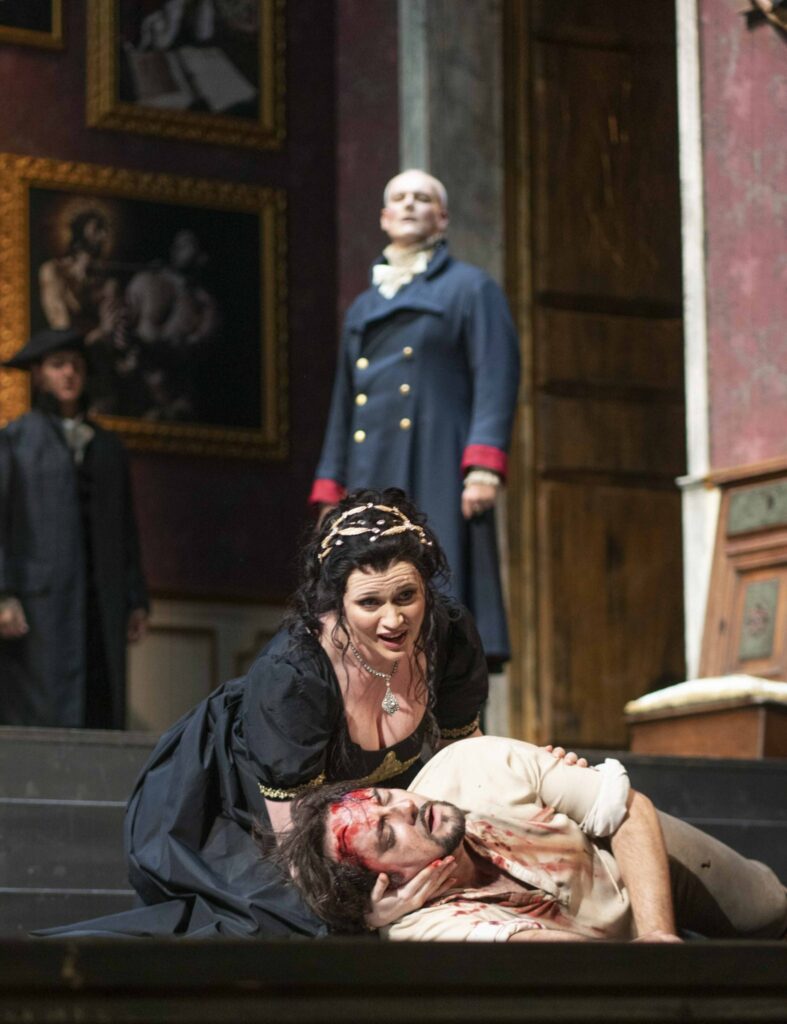 It has the polish, the weight, the "shine" that the character requires. If in the first evening we thought that we would have liked, particularly in "Vissi d'Arte," a slightly more colorful phrasing, our wish was immediately answered in the second, where the rendition was more varied and engaging. And both in the amorous skirmishes of the duet in the First Act, and above all in the finale, the soprano proved to be an excellent match for the power and the ringing of Luciano Ganci's Cavaradossi.
Just a few months after his first performances of Tosca at the Vienna Staatsoper (enthusiastically welcomed by critics and the audience), Ganci has not only proven to be in complete control of the role, but every evening he tends to perfect it a little more. Cavaradossi doesn't just need sparkling high notes (which Ganci possesses and flaunts in abundance). The character can be enriched with endless nuances, perhaps not immediately perceptible to the general public, but which add extraordinary efficacy to the whole interpretation.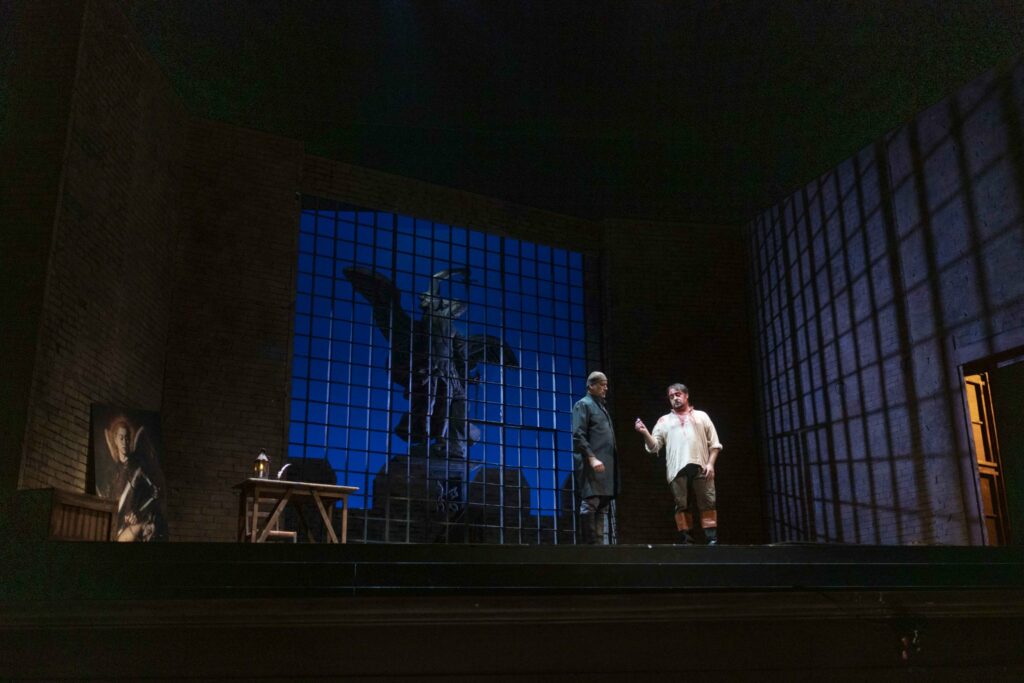 Last but not least, of course, the emotional "diminuendo" of the phrase "disciogliea da veli" (not written in the score, but still much coveted by any audience …), which dates back to the golden age of  opera, passing from Fleta to Corelli, and which, each time Ganci sings it, gets closer to those mythical models. Therefore, we do not think it is a coincidence at all that Thomas Prochazka, a severe critic for the highly prestigious magazine Der Merker, made explicit reference to Corelli in his review of Ganci's Cavaradossi in Vienna. A rich, exciting performance that earned the tenor, in the second evening, the request for a much applauded encore.
Among the protagonists we should obviously include Scarpia, a fundamental and certainly difficult role, on this occasion pushed a bit in the second line. Anyway, even if we cannot say Francesco Landolfi was an unforgettable Scarpia, we willingly appreciate his highly professional contribution to the performance.
The minor roles were all up to the task, and particularly memorable was Saverio Pugliese's excellent Spoletta, and, above all, the little shepherd sung by young Giacomo D'Ambrosio (unfortunately not mentioned in the official poster). Now thirteen years old, probably on the verge of voice breaking, this boy made us enjoy a truly noteworthy Pastorello. If, in due course, he chooses to tackle a career as a singer, we'd better to write down his name and save it, because we might come across him again in a few years.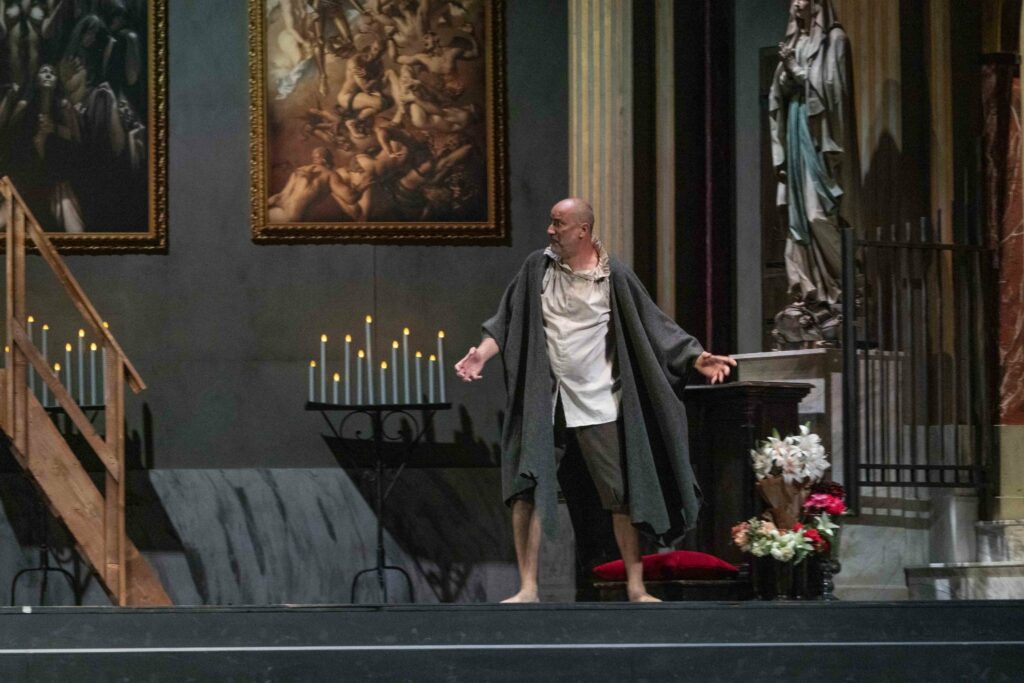 Finally, we need to mention the excellent direction of Maestro Fabrizio Maria Carminati at the head of the Italian Philharmonic Orchestra, the San Gregorio Magno Choir and the Children's Choir of the Coccia Theater.
A show to be seen and heard, and which we hope will be noticed and recommended, since in our opinion it is worthy of being performed in any large and prestigious theater.
Marina Boagno

---
Do you have a comment? You can post it in the space below. Facebook comments are NOT read by most of our reviewers.