Notre Dame by Franz Schmidt
St.Gallen Opera Festival July 9, 2021
Esmeralda: Anna Gabler; The Archidiaconus Simon Neal; Quasimodo: David Steffens; Phoebus: Clay Hilley; Gringoire: Cameron Becker; Officer: Shea Owens; Chorus and Orchestra: Chor des Theaters Gallen, Opernchor St.Gallen, Prager Philharmonischer Chor, Sinfonieorchester Gallen; Conductor: Michael Balke; Director: Carlos Wagner
Music: ***3***
Staging: ***3***
The city of St. Gallen in eastern Switzerland is best known for its abbey with the world-famous library – a UNESCO world heritage site. Each summer since 2006 there is an opera festival staged open-air in the abbey courtyard right in front of the baroque cathedral. The festival always selects lesser known and seldom staged works. This year the appropriate choice was Franz Schmidt's Notre Dame.
Notre Dame was first performed 1914 in Vienna. It is a romantic opera based on Victor Hugo's Notre Dame de Paris. The opera was an initial success but gradually disappeared from the stage. There were revivals in Vienna, the latest 1975 at the Volksoper, and in Dresden 2010 at the Semperoper. The best-known piece from the opera is the Intermezzo (see below), which was composed before and independently of the opera. The Intermezzo has remained very popular as an orchestral piece on its own and it has been performed in many concerts. There is a recording of Notre Dame on CD from 1988 with Gwyneth Jones, James King and Kurt Moll.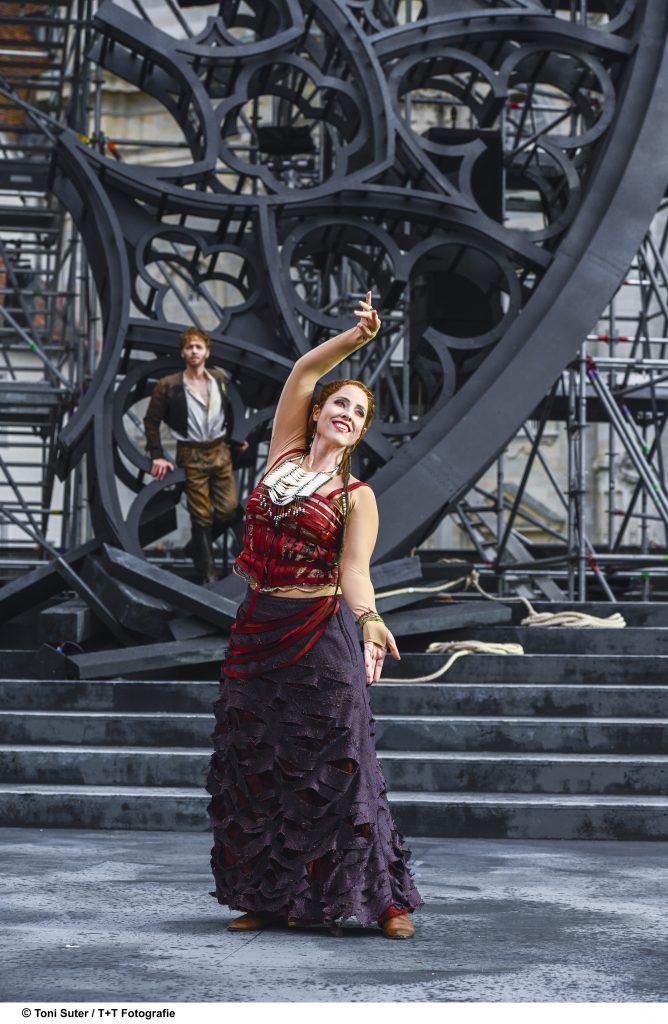 For this performance there is an open-air stage built right in front of the two baroque towers of the cathedral. As with any open-air opera there are particular problems. The orchestra and conductor are playing in the nearby concert hall. The conductor is only visible on several monitors. The orchestra and the singers are amplified and heard via loudspeakers. The mixing favors the singers. Sometimes the lush orchestration can barely be heard. And there is the occasional sound disturbance, such as by an overflying helicopter.
The stage created by Rifail Ajdarpasic is dominated by a huge medieval rose window with an ugly metal scaffolding behind it which is used as a substitute for the front of Notre Dame cathedral. The stage before is very wide. In the more intimate scenes, the singers get lost in it, but it fills well with the crowd scenes.
The director is Carlos Wagner who has a lot of experience with opera. Still the performance is staged similar to one of these abundant open-air musical shows. We felt the staging was inconsistent: some very good and engaging scenes others dull and uninspired. For the Intermezzo he could not come up with more inspiration than to have an almost empty stage with a pair of lost lovers and a steward swiping the stage floor with a large broom.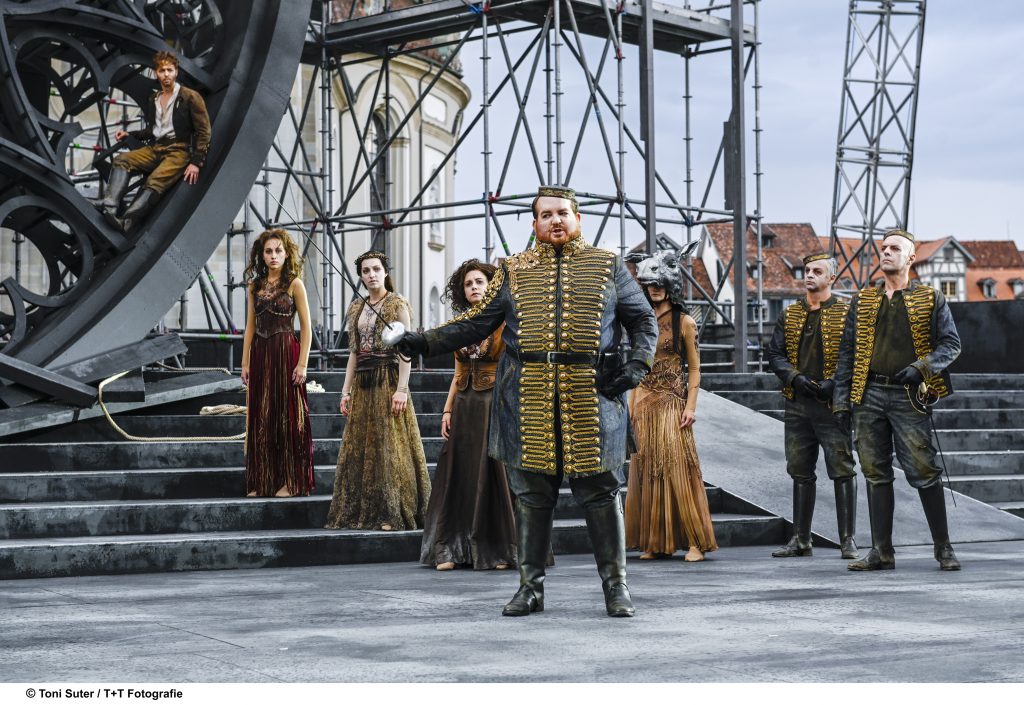 The costumes by Christophe Ouvrard were not very exciting. In particular I would have wished for a much more colorful and exotic costume for Esmeralda and her gypsies as well.
The lightning by Guido Petzold disappointed too. He could have done much more spectacular lighting of the rose window. Some static scenes did not have much atmospheric lightning either.
The singers were generally of good standard which is not always the case with open-air performances.
Quasimodo is not a main character in this opera. He has rather little to sing until the final scene. David Steffens did not make a big impression, neither his singing nor his acting. But there was not much wrong with it either.
Gringoire has much more to sing. Cameron Becker did well in his big solo scene, where he tells the story how he became Esmeralda's husband.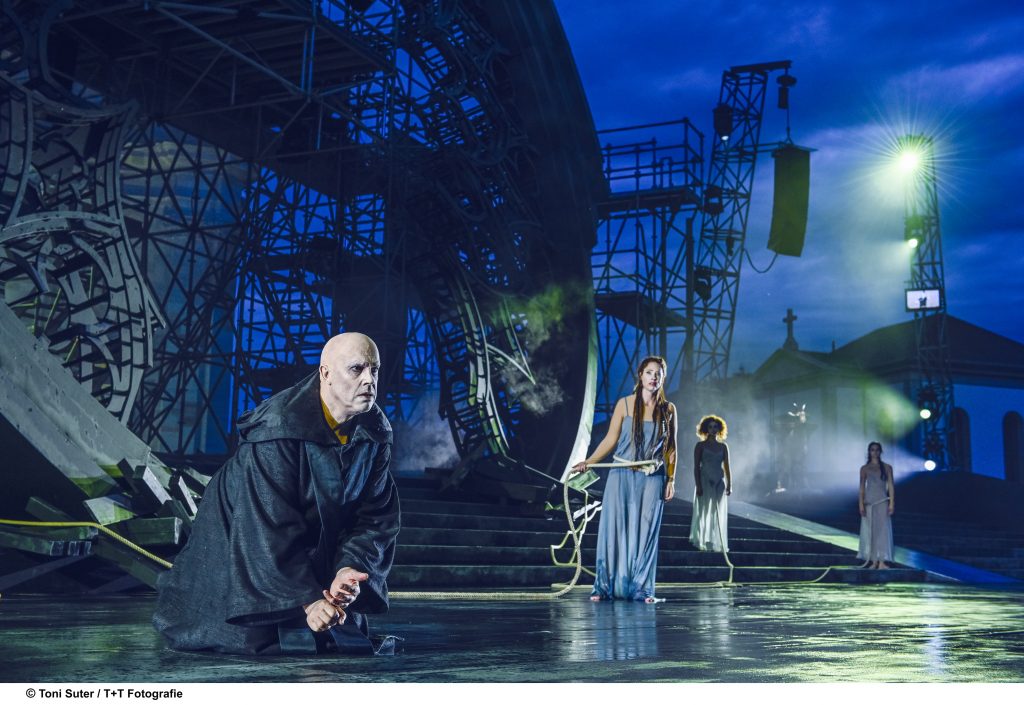 One can hear that Clay Hilley is heldentenor who has sung Wagner's Siegfried. He has all the top notes required for the part of Phoebus. And his lyrical passages were quite good too. Although his looks are not the ones of a young lover, his acting of the hero was excellent. He always stressed the funny and ridiculous side of the role by overplaying the arrogant hero.
Esmeralda is the main character in this opera. Anna Gabler sings with a very fine soprano. But both vocally and in acting she is the nice and good girl from around the corner. There is absolutely no exoticism and even more important no sex-appeal. I cannot understand why these four men would go completely crazy for her. I can only imagine what a Netrebko would have done with this role 15 years ago.
The star of this performance is Simon Neal as the Archidiaconus. He dominates the stage with his impressive baritone voice. He applies all the various shades of tone. This is underlined by his imposing figure and black silvery habit. When he is on stage there is excitement.
The orchestra conducted by Michael Balke sounded somewhat muffled by the amplification. Otherwise, they played this symphonic score quite lovely. I would love to hear this great orchestration in a real live performance to experience all nuances of sound.
In sum: an interesting evening with some disappointments but at least one great highlight. I hope other opera companies will stage Notre Dame soon too. It is definitely an opera which deserves to be revived much more often.
Flamand Olivier