Lucia di Lammermoor by Gaetano Donizetti. Dramma tragico in three acts. 1835. Libretto by Salvadore Cammarano, after Sir Walter Scott's novel The Bride of Lammermoor. First performance at the Teatro S Carlo, Naples, on 26th September 1835. Attended: 26th April 2022. MET, New York.
CONDUCTOR Riccardo Frizza; LUCIA Nadine Sierra; EDGARDO Javier Camarena; ENRICO Artur Ruciński; RAIMONDO Matthew Rose; The Metropolitan Opera Orchestra and Chorus
Attended by Robert Levine for Opera Gazet, 26 April, 2022
Drunken Brawls, Tasteless Clothing and Brutality – White-Trash "Lucia"
Music: 5*****
Drama: 1*
Offensive drabness
Well, it was bound to happen. Twenty-or-so years ago, when we New Yorkers read about Calixto Bieito's production of Un ballo in Maschera for the Liceu in which the opening chorus featured men sitting on toilets, we felt certain that the conservative, traditional Met would never have to tolerate such junk. Then, in 2011, a new production of Gounod's Faust was set right before World War II. Faust was a scientist working on the Atom Bomb; at the opera's end the bomb detonates after Marguerite has walked up a staircase and disappeared.
But with the Met's new Lucia di Lammermoor, we enter a new phase. The curtain rises and we see that we are re-located from late 18th century Scotland to a poor, wrecked mess of a town in what is sometimes called the "Rust Belt," somewhere in the east or mid-west of the United States which fell into disrepair in the 1980s when the coal and steel industries that kept them alive either collapsed or re-located. This contemporary concept – the characters have cell phones – is by first-time Met director Simon Stone. The costumes by Alice Babidge and Blanca Anon feature skintight jeans and midriff-baring spangly top for Lucia, and a panoply of cheap-looking clothing for the rest – shocking pink and glittery green dresses, sloppy pants, work-clothes.
The constantly revolving set by Lizzie Clachan, consists of a pawn shop, a cheap motel, a tacky drive-thru pharmacy (at which, I believe, Lucia collects her methadone), the house in which Lucia and her brother live with a small front porch strewn with empty bottles and old living room furniture, an ATM machine, a food mart where Edgardo works (though he's also a soldier on reserve), a water treatment plant in lieu of a fountain in a park (where Lucia recalls watching a girl die of a stomach wound, and who returns during her Mad Scene to haunt her), a blue, dented pick-up truck and three-or-so other battered vehicles with (oddly) their lights on, and – wait for it – a drive-in movie theater playing a 1947 Bob Hope – Dorothy Lamour film. The Wolf's Crag scene and Ravenswood Cemetery are on the same ugly turntable. After you've seen all of these components spin around once and you marvel at the ingenuity of it all, you simply tire of its offensive drabness. Or you may be dazzled by the trashiness of it all. Lammermoor never looked so lousy.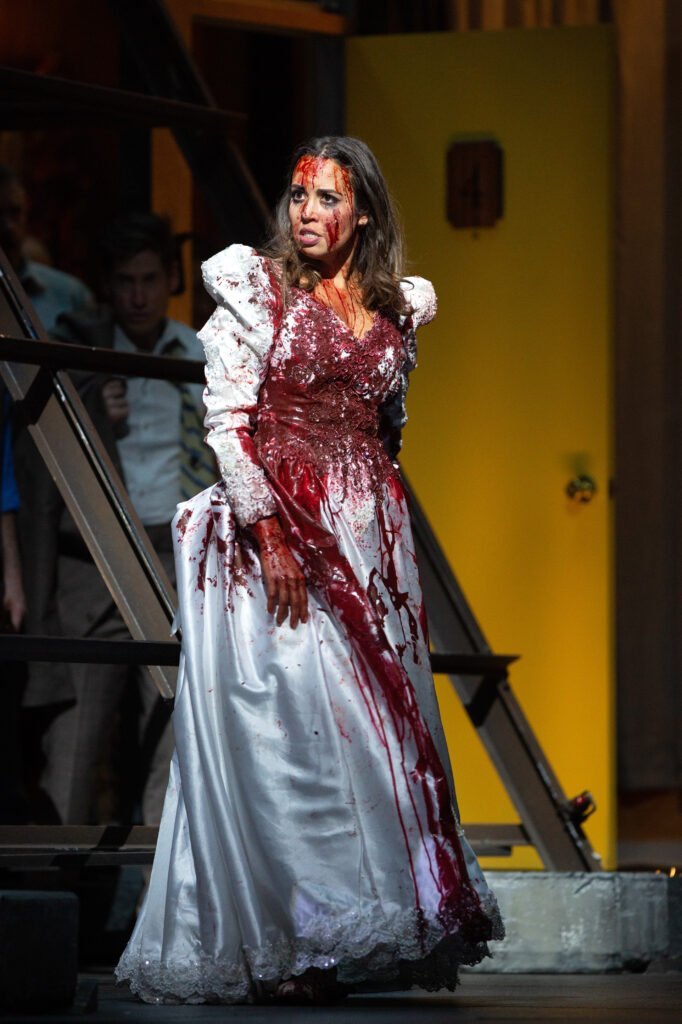 Bashing Arturo's head in with a fire extinguisher
But there's more: the top half of the proscenium is taken up with a screen showing us either Lucia being followed around by a cameraman in real time, as if this were a reality TV show, or films of the cast doing things that differ from what is going on in real time, below. Where to look? Even if you find this entertaining rather than confusing and irritating, you'll give up during the Mad Scene. Instead of focusing on Lucia's terrible plight, blood-soaked from bashing Arturo's head in with the fire extinguisher from the Motel room that served as their "honeymoon" suite, we are asked to watch close-up films of her happier days with Edgardo as well as the murder of the girl in the park.
The real sadness of this all is that musically, the show is a triumph. From the Arturo of Eric Ferring and the Normanno of Alok Kumar, both good, lyric tenors, to the sturdy Alisa of mezzo Deborah Nansteel, to Matthew Rose's sonorous Raimondo, there wasn't a musical moment gone wrong.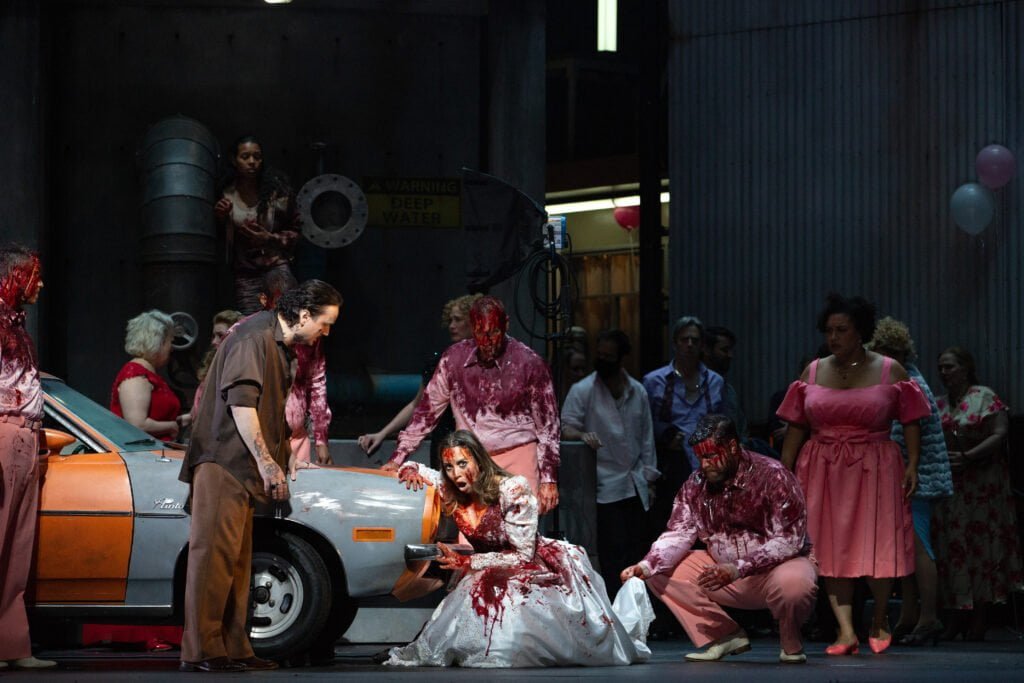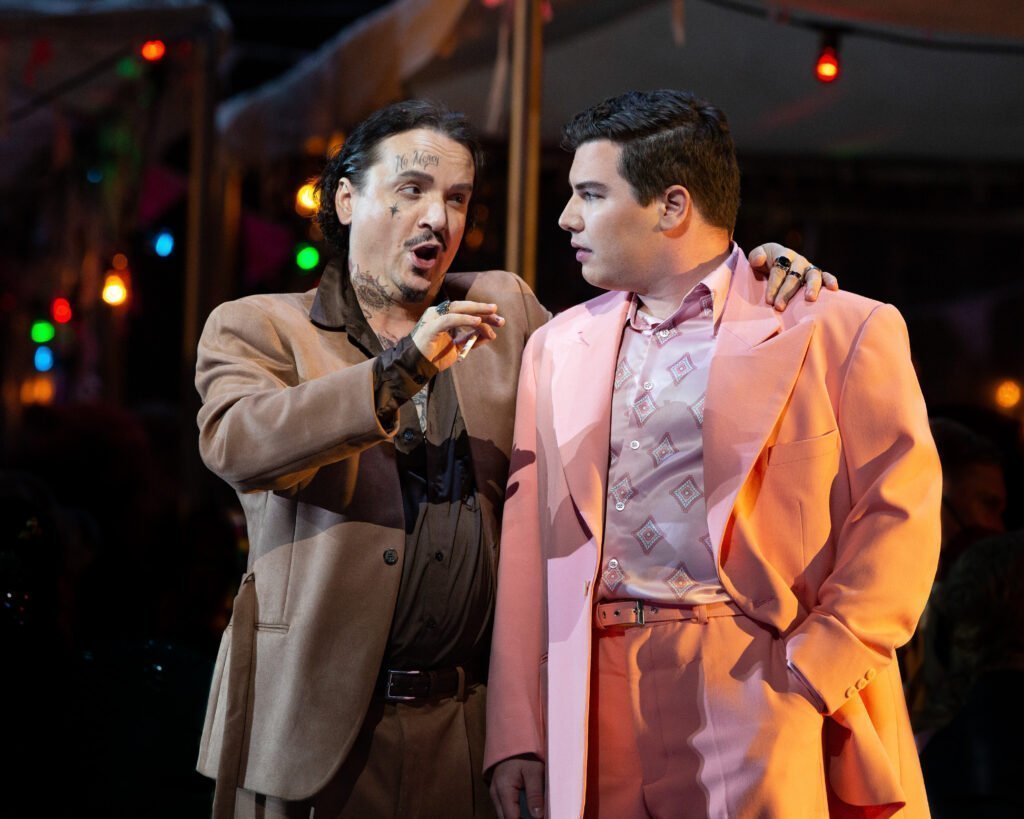 The brilliant sound of  Artur Rucinski
And the three principals were outstanding. The lovely Nadine Sierra, possessor of a full, warm, lyric soprano with fine coloratura and an impressive upper extension, gloried in this production tailored for her – what will the Met do with the films above the stage when she is no longer the Lucia? Her pretty, expressive face gives off real feelings – sadness, confusion and anger were all there. Her first act cavatina and cabaletta were handsomely dispatched despite our having to watch a complete stranger bleed to death on the screen above her. The Mad Scene – blood galore, no knife – was marvelous – and if the E flats were vaguely imperfect (a tad sharp and wiry), so what? It was a vocal tour de force, in an old-fashioned, pre-Callas and Sutherland sort of way. Javier Camarena's Edgardo was the soul of passion, his bright, lyric voice wrapped about mid-range cavatinas and brilliant high notes. Not a large sound – more in the style of Alfredo Kraus than Domingo or Bergonzi – but one that is brilliantly focused and easily rose to the mania of the sextet's finale. But the standout performance was the Enrico of Artur Rucinski. Moving with barely pent-up cat-like movements, pushing both men and women aside, drunk and sporting a big crucifix tattoo on his cheek, he fairly defined toxic masculinity. His brilliant sound, just the right size for Donizetti's music, was fluent and pointed, and his endlessly held cadential high notes– the G at the close of his act one cabaletta lasted through the entire orchestral postlude and threatened to bleed into the Fountain Scene. The audience erupted in appreciation.
Riccardo Frizza, the director of the Donizetti Festival in Bergamo, led an entirely persuasive show, with the Met orchestra playing at top form, from the horns at the start through the solos for Mariko Anraku (harp) and Friedrich Henirich Kern (glass harmonica), who made stand-out contributions. Tending towards quick tempi, this was a no nonsense Lucia, the recits were conversational and natural, the duets and ensembles ideally paced, and the singers allowed leeway without distorting the line. Several traditional cuts were opened, and bel canto fans delighted in the close of the "Verrano a te" duet where Edgardo took the written high E flat, and Lucia joined him on a high C. A thrilling sound.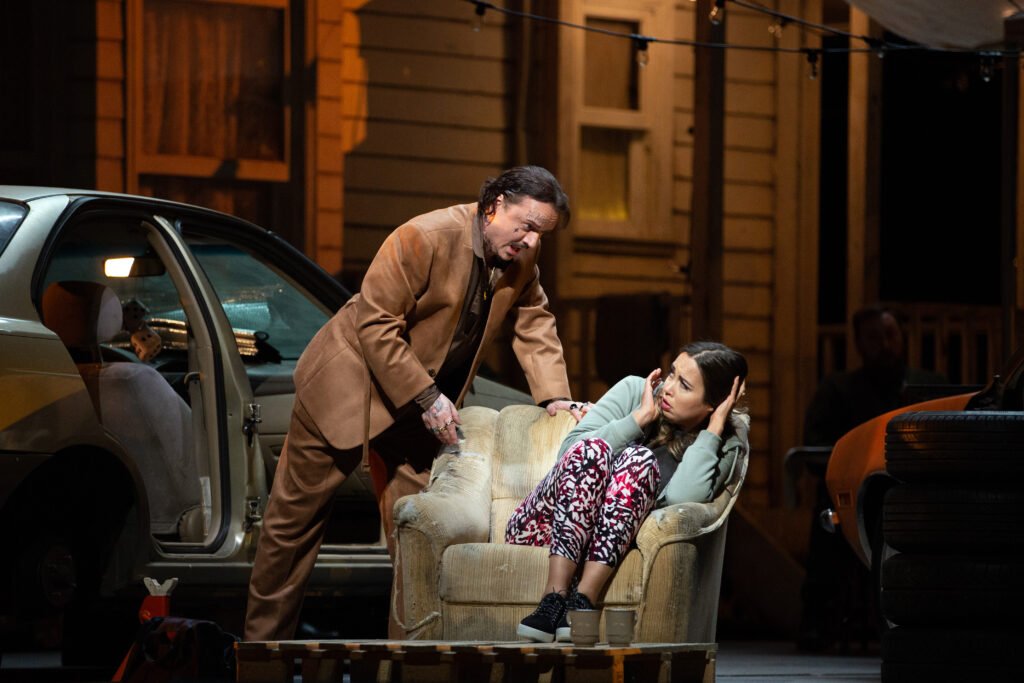 Mr Stone's ghastly condescension
In closing, here is the crux of this problematic production. It's not the physical ugliness or the endlessly revolving turntable or the anachronisms or even the film above and the stage below which had the audience switching their gaze from high to low and back again. What's really ghastly is Mr Stone's condescension: In the Walter Scott/Salvatore Cammarano/Donizetti Lucia, we are dealing with a fine, previously well-off family laid low by financial matters which push the Ashtons to demand that Lucia marry a rich man to buoy up their coffers. Here, in Awfultown, USA, we have bullies and drunks, men with neck tattoos and worse, broken-down cars and broken-down people. Watching them is not to feel pity – at the opera's premiere in 1835, many women wept at Lucia's Mad Scene – now we are rubbernecking on the lower classes. It's a ghastly sort of Reality TV, but vaguely worse: People dressed up in their finery at the opera house watching hopeless vulgarians fall to pieces.