Elektra (Electra) by Richard Strauss. Tragödie in one act. 1908. Libretto by Hugo von Hofmannsthal, after the Electra of Sophocles. First performance at the Hofoper, Dresden, on 25th January 1909. Seen: 12 April 2022
CONDUCTOR Donald Runnicles; The Metropolitan Opera Orchestra and Chorus; ELEKTRA Rebecca Nash; CHRYSOTHEMIS Lise Davidsen; KLYTÄMNESTRA  Michaela Schuster; AEGISTH Stefan Vinke; OREST Greer Grimsley
Attended by Robert Levine for Opera Gazet, 12 April, 2022
Lise Davidsen's Riveting Chrysosthemis Highlights the Met's Elektra
Music: 5*****
Drama: 5*****
In the 122 years since unsuspecting Dresdeners first heard Richard Strauss's Elektra it has not lost an iota of its potency. No matter how familiar you are with this 105-minute masterwork, the gigantic first three chords – moments later to be used for the first three syllables of the name "Agamemnon" – will invariably knock you back in your seat. It's menacing music, with brutality written into its sheer weight.
The plot, focused on what is probably western civilization's most dysfunctional family (the Curse of the House of Atreus), begins some time after Klytemnestra and her lover Aegisth have murdered Klytemnestra's husband, Agamemnon, in his bath, leaving their daughters, the madly obsessed Elektra and her desperate, confused sister, Chrysothemis to cope and wreak what revenge they can. Their brother, Orest, has disappeared.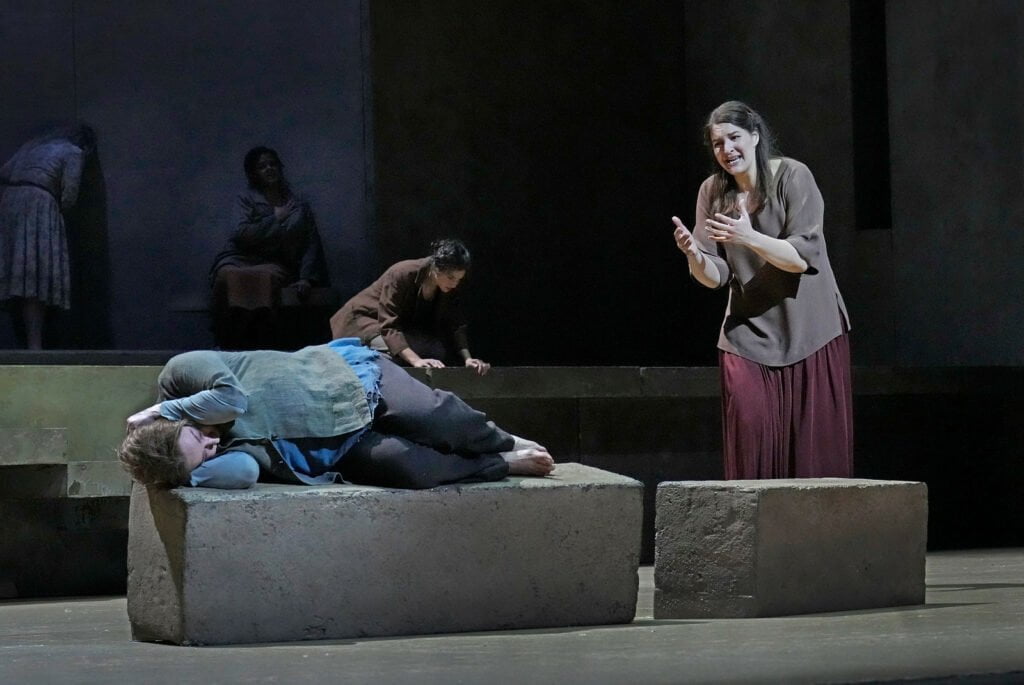 There's little to interpret here – it's all pretty stark and clear. The Met's production, dating from 2016 (first seen at the Aix-en-Provence festival three years prior) was the final work of director Patrice Chereau. The setting is contemporary and stark, free of decor. Chereau sees it as the story of the three women at the center of the Curse and their relationships and attempts to cope. Some directors have emphasized the hideousness of events; Chereau has us concentrate on the psychological workings of the women. On-stage titles in English allow total concentration. The story's relentless tensions remain, with the sheer bulk of noise from the 100+ orchestral players almost a constant. When, about 30 minutes before the end, Elektra recognizes the just-returned Orestes, the clamor takes a startling turn towards beauty and love, the audience realizes it's been holding its collective breath. Contrary to stage directions, in this production, Elektra does not allow herself a triumphant dance after which she keels over and dies: she stares blankly ahead as Orest walks slowly off stage. Her death is obviously spiritual, finally permitted when the revenge she has lived for is fulfilled.
An unfortunate surprise came with the cancellation of Nina Stemme in the title role She was replaced by Australian soprano Rebecca Nash, who has recently sung the Dyer's Wife in Vienna and Turandot in Kiel. Ms Nash was making her Met debut as well as her role debut. If ever there was a trial-by-fire, operatically speaking, it's the title role in Elektra. A short, stout woman, Ms Nash commands the stage and has an impressive, well-controlled, spinto soprano with a solid sound throughout her range. Perhaps her voice is a half-size too small for the part (or the Met), but she triumphed, performing with the necessary passion to underscore the horrendous events. Her concentration and attention to text and movement never flagged – she had us at her first, pathetic, "Allein!"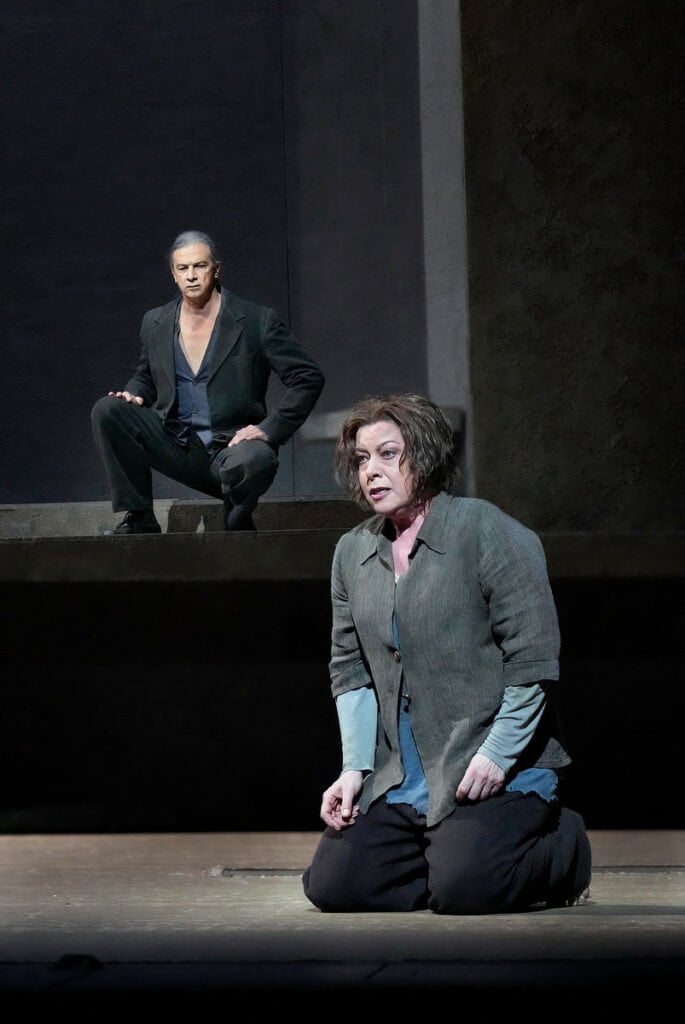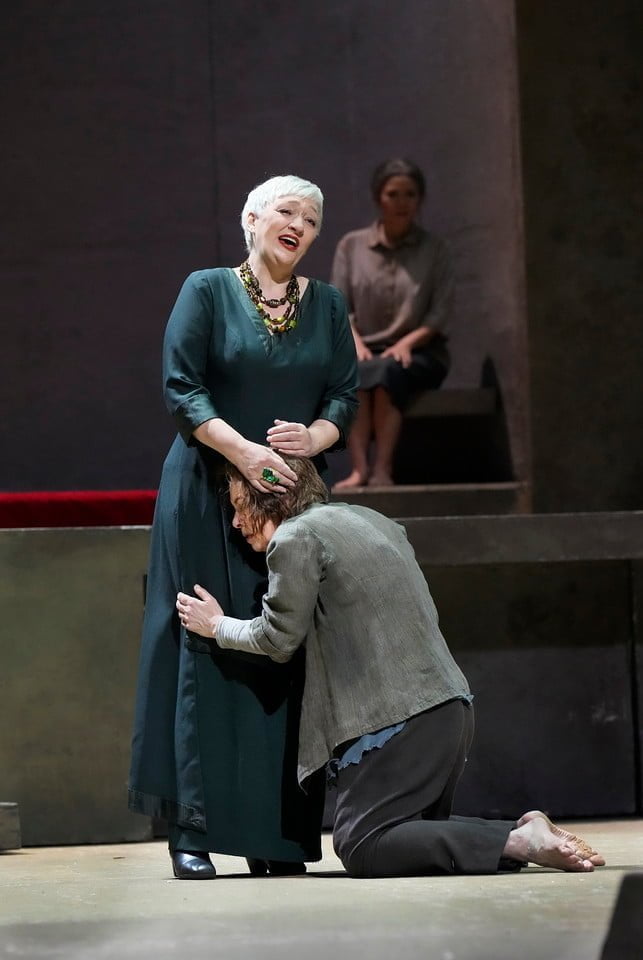 With the entrance of Chrysothemis, here the statuesque Norwegian soprano Lise Davidsen, the Met heard some of its greatest singing in a generation or more. Davidsen's amazing sound seemed to bring out the best in Nash. A pillar of sound, smooth and grand from top to bottom, with a fullness at the bottom and a radiance higher up, even the unleashing of the orchestra's brass section did not faze her. And she was completely at one with Chereau's concept. Aching for normalcy, not as jaded as but sympathetic to her sister, and frightened at the same time. The wild victory duet for them after Orestes kills Klytemnestra and Aegisth was so glorious that it surpassed almost any and every singer within memory. Magnificent. Touching. Loving. Berserk.
Would that Michaela Schuster, a fine mezzo, have been up to the same standards as her stage daughters? Chereau does not see her as the complete monster she's often portrayed as; here she is guilty as sin, but also another victim of the House's Curse. Nasty and once glamorous, she's wasting away, inside and out. She doesn't yell or cackle with laughter, but she faces down Elektra as best she can. Here, the showdown lacked ferocity.
With baritone Greer Grimsley's vocal entrance as Orestes, a warmth washed over the opera; after an orchestral apotheosis, Strauss offers some of his most tender and sympathetic music. The tension, it seems, has left Elektra's body. Theirs is not really a duet, but their mutual tenderness is a beautiful oasis in the midst of great waves of storm. Klytemnestra's lover, Aegisth, a thoroughly loathsome character, was sung by Wagnerian tenor Stephen Vinke – a Siegfried a few years back – at a constant forte. He did, however, die well.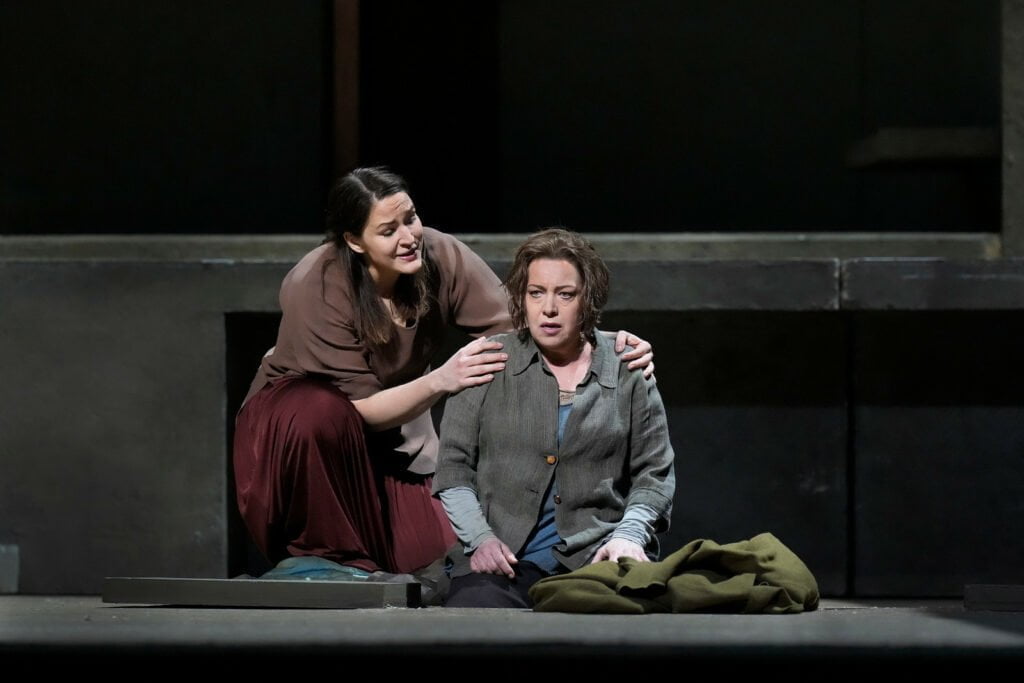 Smaller roles were well taken. The five maids, seen sweeping invisible dust from the courtyard even before a sound has come from the orchestra – can it ever be clean enough – were not tempted to scream. Singing the Overseer, Alexandra LoBianco was officious and sang with brilliance. Tichina Vaughan's dark voice impressed as the First Maid and Eve Gigliotti, Alexandria Shiner and Krysty Swann held up their end of the household staff. The surprise was a lovely few moments from soprano Hei-Kyung Hong, a former Mimi, Butterfly, Susanna and Countess, as the Fifth Maid, made up to be elderly and sympathetic: How much she has seen in that house!
Donald Runnicles led the orchestra – clearly one of the greatest in the world – following Strauss's instructions that the singers be accompanied so that they could sing without shouting or effort. Attention to detail – the creepy violin solo that snakes around Klytemnestra's words – was noticeable through the heat, intensity, and almost hysterical drama. But he was also aware of the work's painful dramatic arc as became clear: the wild "finale" was devastating, a shocking end to a catastrophic tale.