TURANDOT
TURANDOT by Giacomo Puccini. Librettists: Giuseppe Adami & Renato Simoni. World premiere: Teatro alla Scala, Milan, April 1926. Met and U.S. premiere: November 16, 1926. Attended performance: October 21, 2021. With a.o.: Michelle Bradley as Liù, Yusif Eyvazov as Calàf, and James Morris as Timur.
Staging: ****
Music: *****
The Met's Glitzy, Glorious Turandot is back with a great Princess
The Metropolitan Opera's 1987 production of Puccini's Turandot is one of the two "traditionalist" sacred cows left over from "when Franco Zeffirelli ruled the Met"; the other is La bohème. They are as reviled as they are adored: too busy, too gaudy, the sets and costumes smothering the music, but on the other hand, exquisite, ultra-realistic, glamorous, and keeping the "grand" in grand opera. One could argue that in the case of Bohème the story's intimacy and small scale are bloated by the vast panoramas presented (the second act has over 300 people on stage), but it's harder to dislike the Turandot, despite the same 300 (or more) people who wander in and out. True, one can only locate Liu in act one when she tumbles to the floor, and Calaf would be better off wearing Christmas lights, but it all works out for the best in the non-crowd scenes.
Zeffirelli's attention to detail is astounding – the crowds who inhabit Legendary Peking are in the midst of a royal decree, an offstage beheading, a public display of cruel power, a life-and-death contest, a public suicide and a coronation. It's a violent group who nonetheless feel pity for the victims of their bitter princess – the heads of her former lovers are right there, on spikes. A depiction of the rising of the moon hypnotizes them; the silent arrival of Turandot at the rear of the stage on a rising elevator dazzles them – and us. Wherever one looks there is energy and movement. The famous Riddle Scene – the second scene of act two – is as regal as it can get, all in brilliant silvers, whites and golds, with reflecting pools filled with lily pads and supernumeraries waving scarves. Those who have seen the production before this season may note some cutting back – at least 15 women with twirling umbrellas are gone and the reams of brightly colored fabric that were released with the answer to the third riddle have been eliminated.  Neither effect is missed. Love it or hate it, the spectacle cannot be accused of being ineffective. It might momentarily blind you, but your mouth will be agape.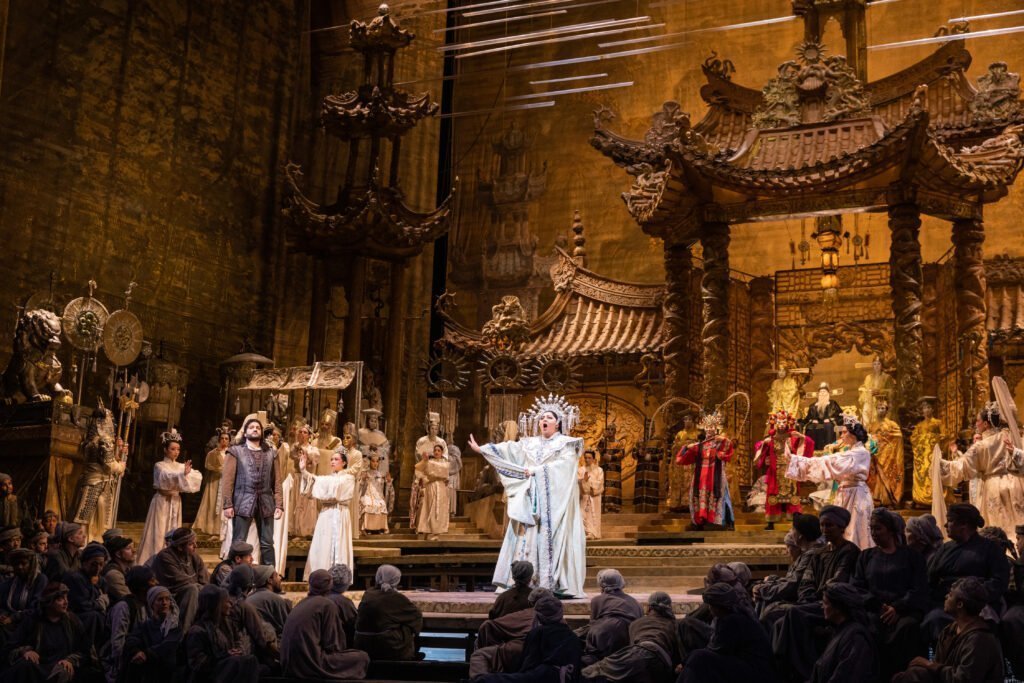 Thoroughly satisfying portrayal
And the Met's current revival features singers who tackle their roles fearlessly and with great success. At the center is Christine Goerke, the eponymous anti-heroine, Turandot, who repeats her blazing performance of 2019 with even more security, rich tone and insight. She's a stunning Turandot with a big and warm voice. She hurls B flats, B naturals and high Cs into the house with power and thrust and apparently no effort. She also manages to portray the ice princess's morphing into a real, feeling person brilliantly in the opera's final scene by darkening her low notes with trembling and fear. At the risk of starting a controversy, I'd have to put her Turandot on a par with Nilsson's: when I recall the Turandots who have graced this production – Eva Marton, Gwyneth Jones, Jane Eaglan, Nina Stemme – they all come up short. Goerke's is a thoroughly satisfying portrayal.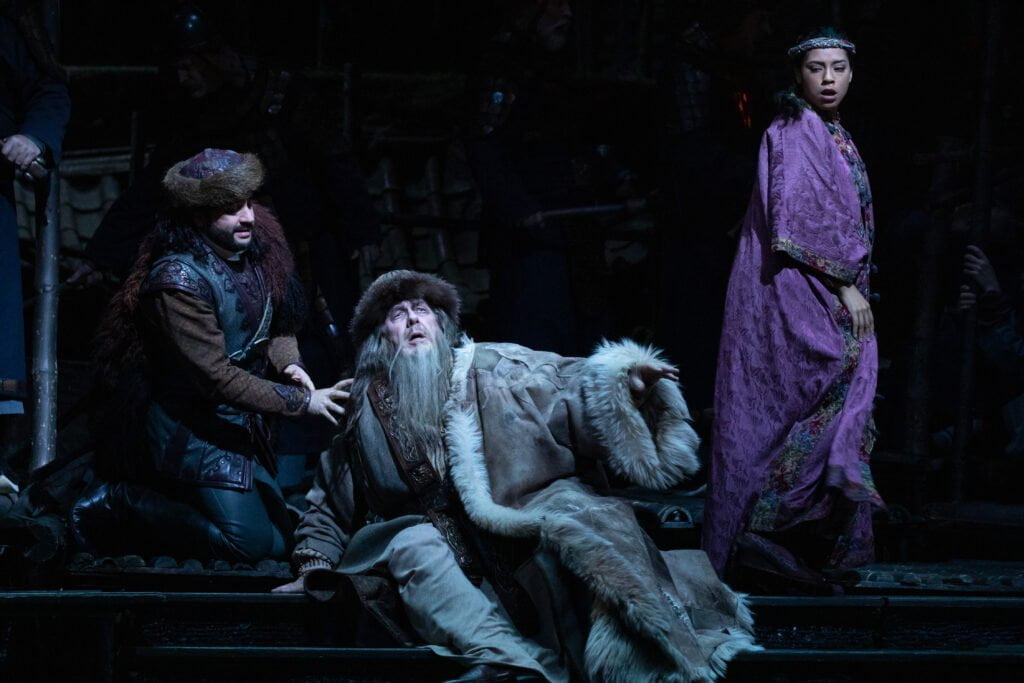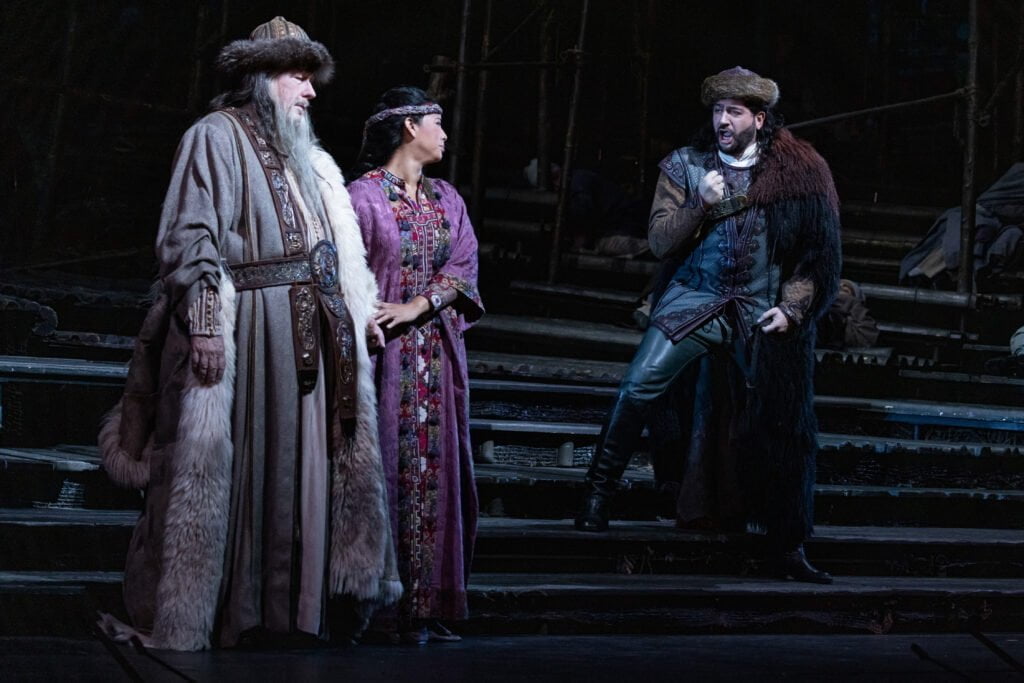 Tenor Yusef Eyvazov is fast becoming a Met favorite. He holds nothing back as Calaf, sings with passion and attention to the words, and if he is not really much of an actor, he at least never looks lost. The voice is a good size and has plenty of "ping"; he only gets into trouble when he pushes loud high notes and they whiten and fray. His "Nessun dorma" earned a well-deserved ovation. The lovely Michelle Bradley substituted for an indisposed Gabriella Reyes and she had the requisite floating B flats that make this sweet character so special in addition to what seemed like endless breath for Liu's long lines. She surprised with true power in her final act aria. A deeply moving reading. Bass James Morris, now in his 51st year at the Met, sang Timur, Calaf's father, with nobility and feeling, if not great vocal sheen; his sad exit left the house hushed.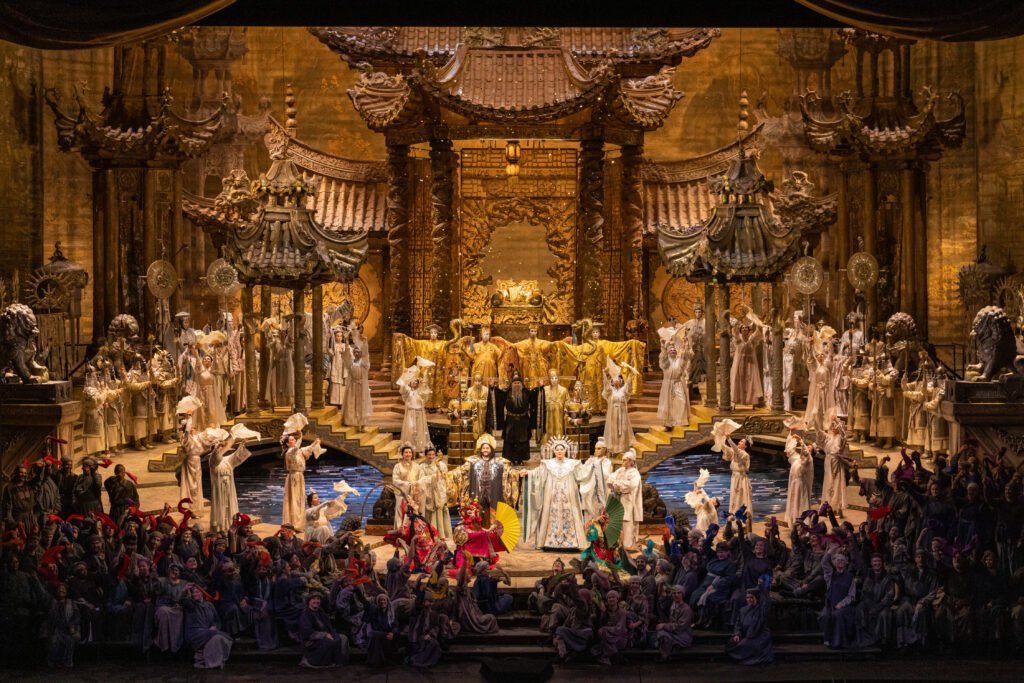 Alex Lavrov, Tony Stevenson and Eric Ferring make a colorful and snidely sentimental/pragmatic Ping, Pang and Pong, characters whose stereotypical Chinoiserie will clearly have to be re-thought by future directors. The bowing, scraping and fan-twirling somehow doesn't sit well anymore. Carlo Bosi sings the character tenor role of Emperor Altoum with more voice than most. Kevin Short's Mandarin was commanding.
Marco Armiliato  led the gargantuan forces with power, and when required, tenderness, bringing out the exoticisms in Puccini's score. The final duet, which includes Turandot's "Il primo pianto" was properly engrossing.
This "Turandot" remains a grand spectacle, worthy of the opera itself, and the cast rightly earns the wild ovation it received.