"Regietheater, The Ruination of Opera".
A reflection on an article by Lynn René Bayley.
Reading Time: 10 minutes
The enthusiastic Tosca comments on the Facebook page of The Dutch Nationale Opera are dominated by praise for director Barrie Kosky's "brilliant moves" and "masterful inventions". The primacy of direction is virtually unassailable in our time, and opera is no longer seen by many as a duality of score and libretto, but as a piece of opera music plus whatever the director comes up with. Heather Macdonald's superb article, The Abduction of Opera (2007), sublimely points out this negative trend. Unfortunately, it lacks the rigorous argumentation to demonstrate that the original libretto and the original librettist have become immaterial. Now and then a blank cartridge is fired, for example by Sergio Morabito, who let slip in an interview: "It is not our task to produce plays as the authors envisioned; how would that even work? Our task is to pose certain important questions in such a way that they are discussions." The director's task would be to "pose questions so they can be discussed."  Many still go to the opera for other reasons. And afterwards no questions but a nice glass of beer.
We recently came across a most enjoyable article in THE ART MUSIC LOUNGE by Lynn René Bayley entitled "Directing Theatre, The Ruination of Opera" (2006).
She takes us back a hundred years, to the experimental Kroll Opera  in Germany. There was a desire to get rid of the now infamous and cliché "opera as museum." Decors and costumes were minimized. The aim was to get "to the core." The experiment resumed after the war, mostly in Germany. Wieland Wagner presented stark staging, and the Berlin State Opera launched its own kind of "new theater" with sophisticated productions of Berg's Lulu and Beethoven's Fidelio.
Vaginal entry
But over time, the new approach degenerated into productions dominated by the shock element. One of the first was a German production from around 1972 of Rossini's Barber of Seville, in which the female genitalia acted as the gateway to Seville: the singers walked in and out. Little could we have guessed that this kind of rubbish would become the future of opera.
In the 1980s (people were now talking about "Regietheater"), the situation deteriorated. In Harry Kupfer's Bayreuth production of Der Fliegende Holländer, Senta is highly autistic. When the Hollander arrives on the scene, Senta imagines that she is singing a duet with him. Kupfer shows us the "real" Hollander looking on from the side of the stage. (A trick subsequently repeated countless times by other directors.) The chorus of sailors are covered in white pancake makeup and wear eye masks: yes, they must be phantoms. And let's not forget the clown prince of all opera directors: Peter Sellars, who staged Le nozze di Figaro in a New York penthouse. Susanna as the count's maid, and Figaro as an indefined servant. None of it made any sense, it was completely ridiculous, but Sellars became a hero.

Cinema also began to make its mark on opera, especially gangster films like the Godfather trilogy and Goodfellas. This led to obvious examples of complete stupidity, such as the "Mafia Rigoletto" of the early 1980s. The film Aria also contributed: the soundtrack contained opera fragments that were in no way related to the images. The fragments were played against incongruous and often unrelated images on the screen: Elvis Presley singing "La donna è mobile" in Las Vegas (why?), and a young lady steering her car through the rain while a soprano performs "La vergine degl'angeli" from La Forza del Destino. What was the point of all this? Only the novelty. It was different, even if it had nothing to do with the plot or the characters.
These regrettable developments opened the doors to a bevy of directors whose main aim was to exploit the violent or gruesome elements of an opera and add as much unrelated nonsense as possible. Wagner operas without Nazis became the exception. During a production of Parsifal, large images of dead rabbits were projected onto a screen during the final scene, and Die Walküre was set in an insane asylum, with Wotan and Brünnhilde in straitjackets. And things got crazier over time – not just with Wagner. Mozart was not spared either. In Zurich's Die Zauberflöte, Papageno wore a black suit covered in bird droppings in his cage, while the Queen of the Night groped her way along a wall like a blind mole. Puccini and Verdi weren't able to dodge the bullet either.
But if you think that audiences and critics would revolt and reclaim the opera houses by force armed with rotten eggs, you're dead wrong. People are taking this nonsense seriously. Presumptuous articles are being written that pontifically and nonsensically point out the "layered" nature of the performance. Critics try to make sense of the mysterious "concepts"" that these "genius" directors revel in.  The Emperor's Clothes in optima forma. In 2011, Hans Neuenfels' Bayreuth-Lohengrin was set in a giant laboratory, complete with lab rats. Fortunately, we still have the photos: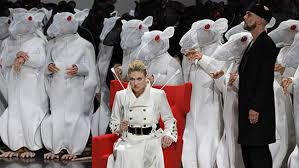 A round of rat food for everyone
Somehow, this madness crept into the opera world, manifesting itself as "contemporary," "urgent," or "discomforting." Lofty words were written about it, much to the amusement of text analysts or just people with common sense. In Opera Gazet, we have always given ample attention to The Dutch Nationale Opera's hilarious drivel. They are world champions of blathering, page after page.
Lynn René Bayley, in her article, brings up the Wagnerian and scientist Nila Parly, who totally hit the right tone years ago in an article at www.wagneropers.net.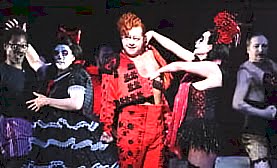 Try listening to Nila Parly:
"The evil genius – Henry the Vogelaar – stands with an apple in both hands. Through Genesis, the apple has become the most fundamental symbol of the Western mind, of divine insight into the conditions of life, the symbol of Christian civilization's sinful desire to know "the truth." But the apple also plays an important role in Norse mythology, where the apples of Freia grant eternal life to the gods. Again, the apple is connected to "the truth," the truth that only immortal gods can perceive.
During the performance, we are confronted with three "truths," which are represented in cartoons. The first "truth," which comes from the imagination of Henry the scientist, is the "Ancient Norse Truth." This truth is introduced during the overture and reveals itself, through repetition, as the truth that the supporters of Telramund and Ortrud raise as the explanation for the miserable state of the empire."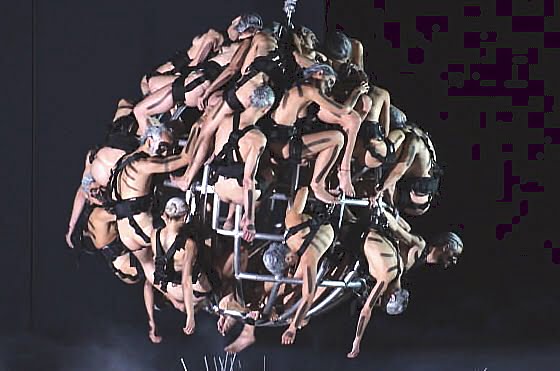 Die Walküre ; Walkürenritt
The second "truth," the "Christian truth," is presented during the sword fight between Lohengrin and Telramund in the first act and is repeated during the prelude of the second act. With this "truth," the supporters of Elsa and Lohengrin declare "Das Deutsche Elend (Nietzsche).
The third "truth" comes to life in a cartoon and is the result of Henry's reckless genetic experiments , and contradicts his own positive conclusion. This third "truth," expressed in a cartoon, is the result of Heinrich's reckless genetic experimentation, and contradicts his own positive conclusion. While he rejoices, textually and musically, in his belief in the successful outcome of his engineering, we see a film in which the result turns out to be disastrous and self-destructive.
The chorus was dressed in cleverly designed costumes as laboratory rats, with long rubber toes and tails, and it was almost impossible to take your eyes off the audience. (…)
In other words:
So much for Lohengrin according to Nila Parly, Ph.D. "Rats you can't take your eyes off." Bayley notes about this: "With permission, Ms. Parly, they are HUGE RATS. How on earth could you take your eyes off them!"
Sometimes I really think, Bayley continues, that the learned folks who are hammering out this nonsense on their keyboards need to go talk to someone, just like the narcissistic personality disorder-afflicted crippled thinkers who stage these idiotic performances. My review in two words of this Lohengrin production? Boring and cheap, says Bayley.
But it's not only the brilliant scholars who applaud these productions. Above all, let's not forget the offenders. Take Peter Sellars, whose outward appearance is indicative of his seriously disturbed operatic world in which childish daydreams take shape. What is his full-time position? Well, Sellars is Professor of World Arts and Culture at UCLA, where he teaches Art as Social Action and Art as Moral Action. Social Action and Art as Moral Action! Come again? The conclusion seems inescapable: the opera world is doomed if these kinds of blatherskites are given the authority to tinker on operas in the attics of mental institutions where they transform works of art into horrific freak shows.
Mind you, Bayley said, I don't hate all modern productions. Sometimes, if the opera is silly and comical enough, a touch of modern levity can't hurt to hold the audience's attention. A good example is the Théâtre du Châtelet production (2007) of Rossini's La Pietra del Paragone, in which the director used various optical tricks with blue screens and images projected onto the performers to boost the comic content. One of my favorite scenes, Bayley said, is the one in which Clarice (Sonia Prina, a stunningly good singer) can be seen in the kitchen of the wealthy Count Asdrubale, jumping in and out of the trash can. Also entertaining is the scene in which Clarice, disguised as her long-lost "brother," an African explorer, arrives in a Dr. Seuss-like cardboard jeep and sings an aria of almost impossible technical difficulty. Comical. Also effective was the production of Stravinsky's The Rake's Progress (2007, La Monnaie, Brussels) set in 1950s Las Vegas. It's doable with these kinds of operas, especially when they don't require a set place or period.
Foolish incongruities
But a great many operas, Bayley says, do have a fixed and immutable location and/or period. Guillaume Tell, Don Carlo, Die Meistersinger, Falstaff, Rigoletto, Don Giovanni, Contes d'Hoffmann or Simon Boccanegra cannot be "actualized," but good Lord, the barbarians do it anyway and in doing so ruin your and my enjoyment. I don't go to the opera to wonder what psychotic nightmare was going through the director's head when he decided to present these insane incongruities to us. I don't need to see Les Troyens with a giant phallic horse of Troy or a Guillaume Tell in which toilet seats play the leading role. The director's psychoanalytic abilities don't interest me. As Heather Mac Donald put it in the aforementioned 2007 critique of Regietheater, "The Abduction of Opera": "Mozart's lighthearted opera The Abduction from the Seraglio does not call for a prostitute's nipples to be sliced off and presented to the lead soprano. Nor does it include masturbation, urination as foreplay, or forced oral sex. Europe's new breed of opera directors, however, know better than Mozart what an opera should contain. So not only does the Abduction at Berlin's Komische Oper feature the aforementioned activities; it also replaces Mozart's graceful ending with a Quentin Tarantino–esque bloodbath and the promise of future perversion."
Nazis and bloody bunnies
The bottom line is that, in principle, no director has the right to perform an opera in a way that is alien to or contrary to the historical setting and/or the specific set descriptions of the composer or librettist. Does anyone want to stage some nightmare production with Nazis, mutilated women, mentally deprived people, giant rats, bloody bunnies, etc. etc.? Fine. Just write your own opera and leave the classics alone. No one has the right to change what someone else has already staged in such a way that an "actual" production no longer bears any relation to the reality of the original opera.
If you want to see really effective musical theater, check out the scene below this article: Boito's Mefistofele, on a bare stage, in which soprano Magda Olivero and bass Jerome Hines create unforgettable images and also sing unforgettably to create complete characters. I have, said Bayley, a perfect profession for all Regietheater directors, once we've chucked them all out of opera houses: put them in charge of the print campaigns of leftists anywhere in the world. Leftists have a paralogical view of things anyway, springing from an unrealistic worldview. The delusional visions of Regietheater directors are a perfect match. A perfect match!
Regietheater, The Ruination of Opera
© 2016 Lynn René Bayley
Translated and edited by Olivier Keegel
Read the original article HERE.