Opera As Drama II by Lynn René Bayley is a must read for sincere and curious opera lovers. The book provides surprising insights and unvarnished but always reasoned opinions. Bayley is a Classical & Jazz Critic and editor-in-chief of The Art Music Lounge. She is a graduate of Seton Hall University and the author, under a nom de plume, of three other books on music (see also the sensational Spinning The Record). Between 1978 and 1989 she was also the Cincinnati critic for Opera News magazine, and in 2000 excerpts from her history of opera were included in educational packages for high schools in the tri-state area by the Lincoln Center Institute for the Arts in Education.
Lynn: "After 10 months of intense work, I have finally finished my new book, "Opera as Drama II," which illuminates the history of the art form from the perspective of drama rather than entertainment. Click HERE to read the book FOR FREE.
Warmly recommended.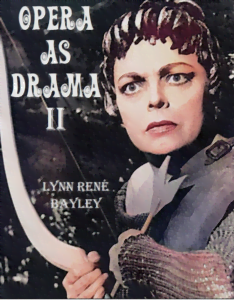 Some quotes to warm you up
PETER SELLERS, the artistic vandal
"Modern stage productions started in the '70s with Chéreau and a very quirky American named Peter Sellars. Throughout his entire career, Sellars has had only one goal in mind: be as outrageously moronic in your productions as you can possibly be, and the media will write about it. This, in turn, will lead to exposure for YOU, the halfwit who staged Antony and Cleopatra in a swimming pool, Don Giovanni as a blaxploitation film, with the Don clad only in underwear and shooting up heroin, and then set Handel's Orlando in outer space. Conventional thinking would postulate that such an artistic vandal would be banned forever from any future opera productions, but in fact the opposite was true. He was, in fact, named director and manager of the American National Theater at the Kennedy Center in Washington, D.C. in 1984, when he was only 26 years old, and he is now a professor at the University of California, Los Angeles, where he teaches "Art as Social Action" and "Art as a Moral Action." And this, you see, is what happens to perverts whose only goal is to made people angry and offend them. They get major positions in the arts world and are hailed as geniuses."
ARTISTIC RAPE
"Compared to Sellars' atrocities, London's "Mafia Rigoletto" and Harry Kupfer's bizarre Bayreuth Der fliegende Holländer, in which Senta is an emotionally unstable woman who imagines her encounters with the Dutchman, of the early 1980s almost looked normal, but worse, much worse, was still to come. The primary source for this brand of artistic rape was, of course, the world of film, where anything goes, one of the major influences being producer Don Boyd's 1987 movie Aria, in which ten different directors produced short films, later spliced together, showing ludicrous or irrelevant images set to operatic arias. The most bizarre was surely the scene of a young woman crying in a car that was driving through the rain while the background music was "La vergine degl'angeli" from Verdi's La forza del Destino."
COMPOSER AND LIBRETTIST
"Many, many operas do have a fixed locale and/or date. You can't update things like Guillaume Tell, Don Carlo, Die Meistersinger, Falstaff, Rigoletto, Don Giovanni (what sense would updating make since we don't have masked balls nowadays, and everyone could tell Giovanni from Leporello using spectral imaging?), Contes d'Hoffmann or Simon Boccanegra, but they do it anyway — and ruin our enjoyment in the process. I'm not going to the opera to wonder what psychotic nightmare was going through the head of the directors when they decided to do this weird nonsense.
The bottom line is that, for the most part, no director has any right to stage an opera in a way foreign or counter to the historical setting and/or the specific set descriptions of the composer or librettist."
---