FIGARO
Le nozze di Figaro by Wolfgang Amadeus Mozart. Opera buffa in four acts. 1786. Libretto by Lorenzo Da Ponte, after the play La Folle Journée, ou Le Mariage de Figaro by Pierre-Augustin Beaumarchais. First performance at the Burgtheater, Vienna, on 1st May 1786.
Attended by Robert Levine for Opera Gazet, 12 January 2022
Daniele Rustioni took the podium to lead Mozart's breathtaking comedy. Bass-baritone Adam Plachetka performed the role of the philandering Count, opposite soprano Golda Schultz as the dignified Countess. The wily maid Susanna was sung by soprano Lucy Crowe, and bass-baritone Ryan McKinny performed the title role of the foolhardy valet. Mezzo-soprano Isabel Leonard traded off as Cherubino, the young page on the cusp of manhood.
Music:    5 *****
Staging: 4 ****
Richard Eyre's now-seven year old Met production of Mozart's Le Nozze di Figaro has returned, and while it is updated to Seville in the 1930s, it neither breaks new ground nor perverts the music or situation. It does have a point of view, however: Those of us who see this opera as part farce and part serious class struggle, will only be half-pleased. The satire of the class system is played down and the sexual shenanigans stressed. The Count's vanity, his hair-trigger temper, his loony frustration and the ease with which he can be fooled make him rather a rich buffoon – there's rarely any concretely menacing behavior. He seems very friendly with the staff, with no sense of aloofness.  If a director must pick only one aspect of "Figaro", I'd rather it be this one than the dry, political one. I've seen the latter, and it's dreary; this production is anything but. Happily, rather than slapstick, in Mr Eyres's hands, we get real reactions from the handful of interesting people involved, and it's great, often sarcastic, fun.
Rob Howell's set for the Count's estate is a series of enormous bronze-walled towers with Moorish motifs. Two of the towers rotate allowing us to see each room in the castle (and the garden) as well as the hallways, staircases and doors; it seems to be a space in which everyone can be in touch with what everyone else is doing.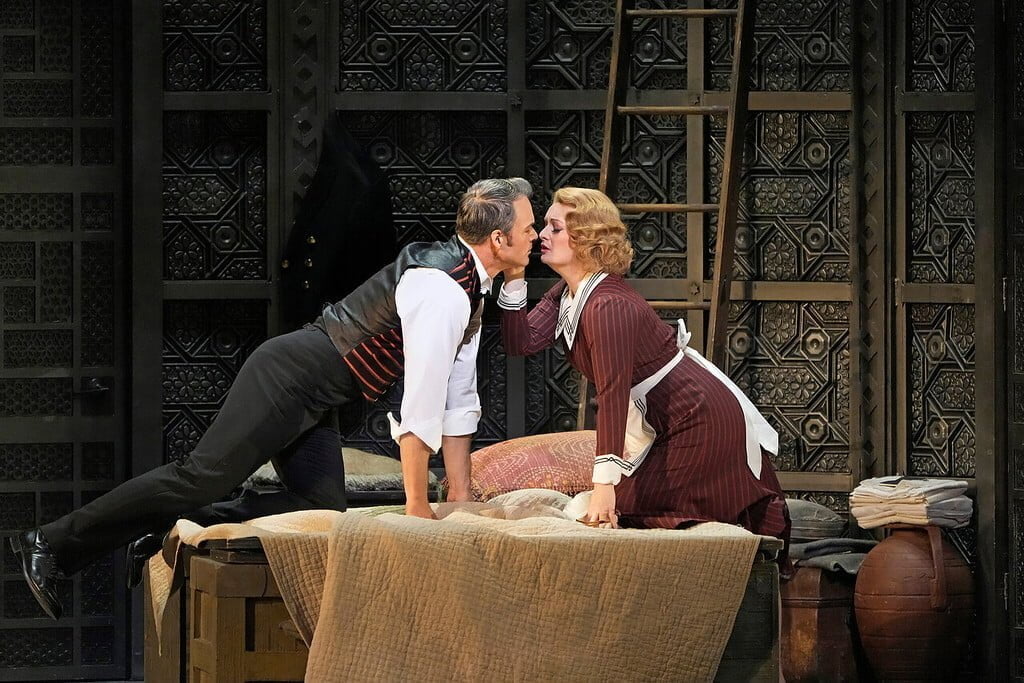 But it is gloomy and often looms over the action in an unappealing and counter-intuitive manner. The cast work hard to negate the physical murk and they succeed.  Mr Howell, acting as costume designer as well, takes advantage of the '30s styles and the Almavivas wealth and offers lustrous gowns and suits and elegantly starched uniforms for the servants.
Eyre's point of view is clear from the overture, during which we have a pantomime of a scantily clad young woman followed by the Count, looking self-satisfied, in short red robe. The stage rotates and we catch brief glimpses of the Countess in her bed and Antonio tending to his plants – I wish we'd been allowed to just listen to the overture – one of opera's most glorious.
The fine cast was led by Ryan McKinny's smooth, easy-going, self-assured Figaro. Measuring the length of the bed planks with his own size, teasing Cherubino without cruelty, never breaking character with the Count, and eventually snapping emotionally for a bitter "Aprite un'po quell'occhi," here was a Figaro to relate to. His Susanna was the pert, wise Lucy Crowe, lovely of voice and demeanor. Her "Deh vieni," was almost hypnotically lovely, sung with a stunning legato. Occasionally her tendency to understate the cleverness of this character seemed bland, but it was clear that she'd win in the end. The mixed sexual signals that she sent the Count made him wonderfully vulnerable.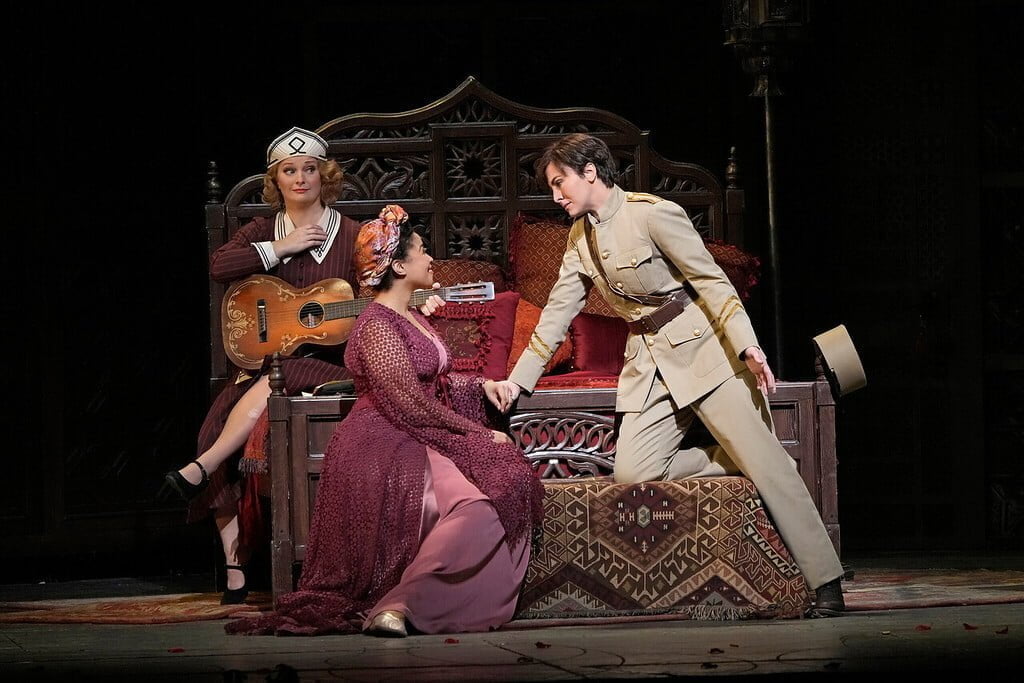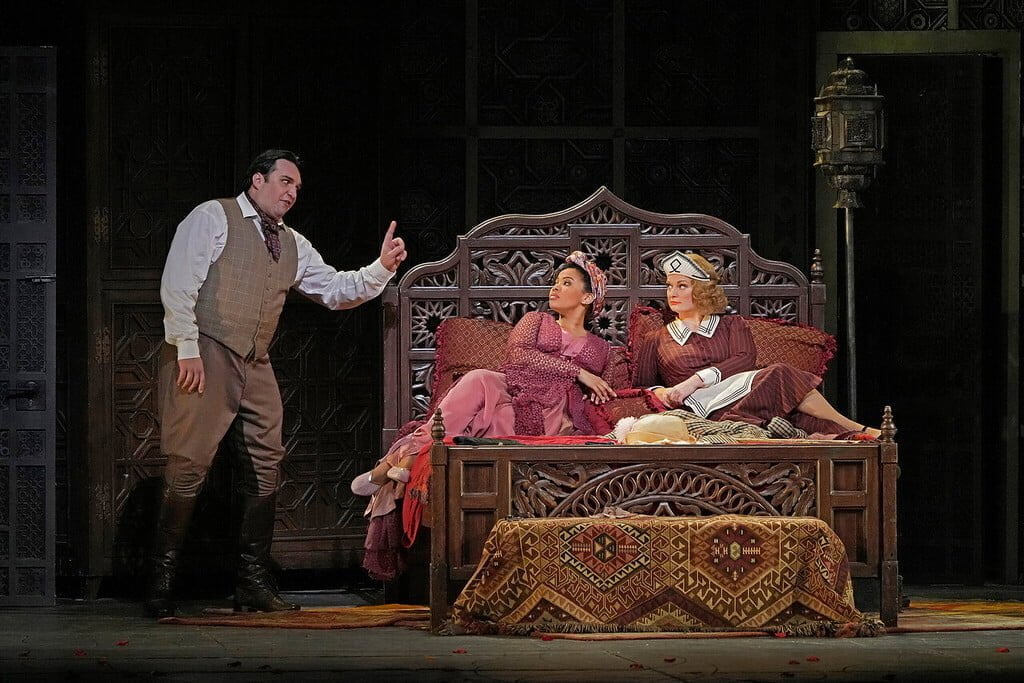 The other couple is invariably more complex in all ways, as they were here. The Countess has the unfortunate job of altering the entire mood of the opera at the start of act two. After the jollity of the act I trio and the scene with Cherubino, we meet the Countess: Melancholy, on the verge of despair. Golda Schultz may be a bit light-voiced for the situation, but her singing couldn't be faulted. She totally understood the throbbing ache of her sadness and it was clear after "Porgi amor" that she could only express such yearning nostalgia when she was alone. Immediately thereafter, she takes great joy in the situation with Cherubino and that remarkable act II finale that builds and builds, co-conspiring with Susanna. Later, in "Dove sono" we hear a similar nostalgia but also some metal when she breaks into the aria's stretta, which she embellishes lightly. And her last act forgiveness of her husband was as smooth and heartfelt and full of hope as it should be.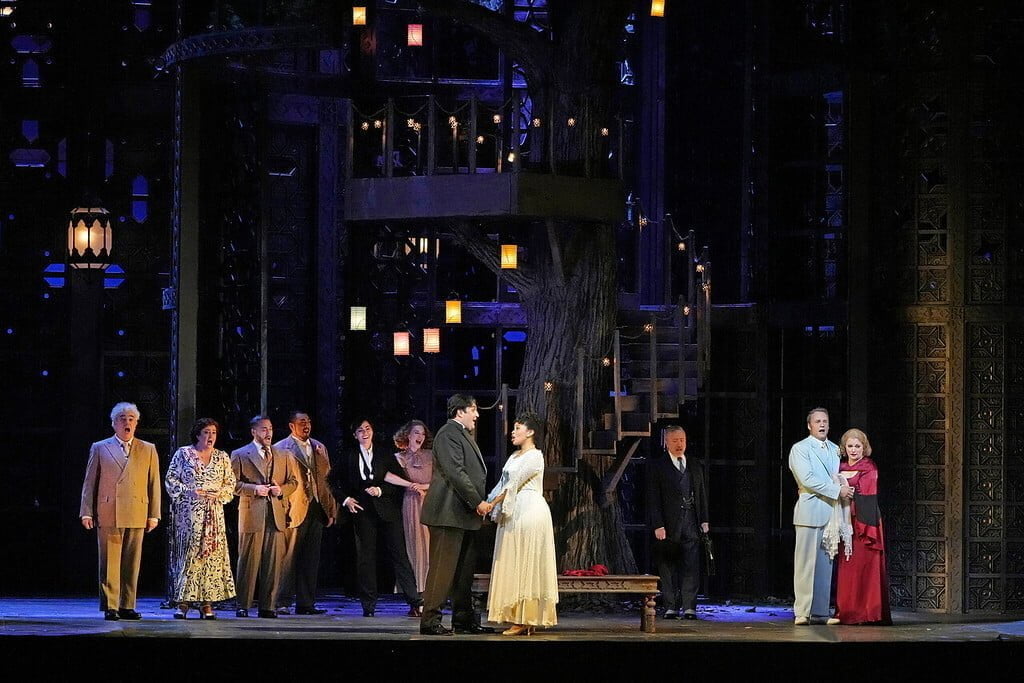 As mentioned above, Count Almaviva may be a tiger, but more often than not he's a paper tiger in Mr Eyre's production. Adam Plachetka is a big, imposing man whose bulk alone can scare, but his rage, even in the act I trio after Cherubino's hiding place is revealed, is mitigated by those around him – they simply refuse to obey. His "Hai gia vinta la causa" was the picture of controlled rage, and it should be noted that he sang Mozart's revised, higher, more difficult version of the aria, and he did so superbly.
Perky Cherubino
Isabel Leonard's Cherubino was perky, athletic and daring and "Voi che sapete" was sung about as beautifully as one can imagine. And the flirtatious interplay with the Countess had a certain sexy frisson. Maurizio Murano's Bartolo boomed in "La vendetta' and avoided caricature in what seemed to be a genuinely surprised "Sua madre" sextet alongside the naughty, suggestive, egocentric Marcellina of Elizabeth Bishop. Erika Baikoff was a delight as Barbarina and Paul Corona's Antonio and Tony Stevenson's Don Curzio. Giuseppe Filanoti almost turned Basilio into a starring role.
When Yannick Nézet-Séguin dropped out of the Figaro performances the  month before,  Daniele Rustioni was brought in. He led a masterful, delightful, idiomatic performance, with clear comic sensibility and utter sympathy for the Countess with ever being maudlin. The recits were quick and natural as speech and the big, 20-minute ensemble that ends the 2nd act did not miss a beat. The Orchestra played brilliantly.
A joyous evening; one could almost sense Mozart giggling…