IDOMENEO
Victorian Opera, Tuesday July 4, 2023
Palais Theatre, Melbourne
Composer: Wolfgang Amadeus Mozart
Librettist: Abbé Giambattista Varesco
 Conductor Benjamin Bayl; Director Lindy Hume; Idomeneo Steve Davislim; Idamante Catherine Carby; Ilia Kathryn  Radcliffe; Elettra Olivia Cranwell; Arbace Michael Dimovski; High Priest of Neptune James Egglestone; Voice of Oracle (Neptune) Simon Meadows; CHORUS; Melbourne Chamber Orchestra
Music: 3***
Direction: 3***
You can have any review automatically translated. Just click on the Translate button,
which you can find in the Google bar above this article.
Mozart's iconic opera seria is not dissimilar to the late romances of Shakespeare, in that they all feature damaged men creating rods for their own, and everyone else's, backs, only to have them emerge on the other side wiser and with greater perspective on their place in life. The torments endured by the principal characters are ultimately a pathway to enlightenment, and as the director of this production of Idomeneo, Lindy Hume, observes in the program, this aligns perfectly with the themes of unity and brotherhood that Mozart's beloved Masons always championed.
As I sat within the decaying grandiloquence of the Palais Theatre and watched, in the final moments of the drama, the king and his family, along with his people, finally reconcile their traumas and begin the process of healing, I was reminded of this passage from the epilogue of Pericles: "In Pericles, his queen, and daughter seen, / Although assailed with fortune fierce and keen, / Virtue preserved from fell destruction's blast, / Led on by heaven, and crowned with joy at last."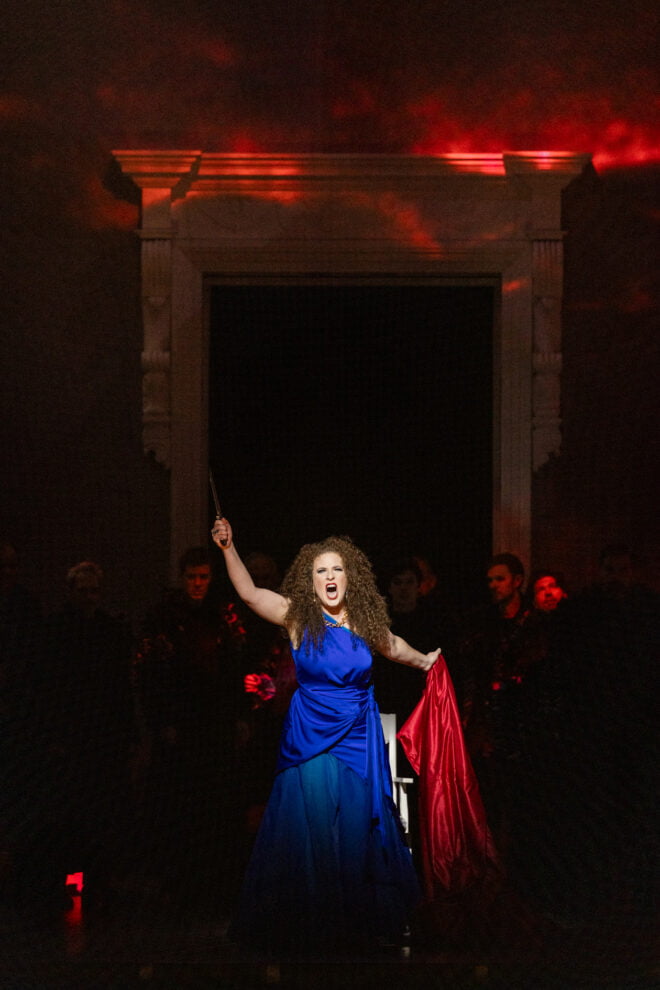 As often as not, though, Shakespeare's late romances can stretch credibility with their frustrating reliance on deus ex machina to draw proceedings to a close, and while having Neptune speak directly to mortal ears to issue his edict is well within that realm (and not dissimilar to the appearance of Diana before Pericles), it is one of the less objectionable tropes within this kind of morality play. As such, approaching Idomeneo as a grounded human drama is a completely reasonable response to Mozart's most celebrated take on Greek mythology.
Sadly, though, Hume's stylish, haute-couture, modern-dress production, for all its many elegant and well-considered contemporary conceits, fell frustratingly short of its full potential on its opening night, due in large part to what appeared to be a perplexing disconnect between director and leading man.
More than most directors currently working in… well… the world, frankly, Hume understands the need to create sensible interpersonal interplay between characters. Conceding to neither "stand-and-deliver" nor to overwrought "creative" blocking, she spent much of the evening giving her cast credible dramatic relationships across the board and was largely successful in evoking a sense of actual human beings having actual conversations, however necessarily filtered it all was through the highly specific prism of 18th century opera seria. But therein lies the rub…
Whether it was opening night enthusiasm, active sabotage, or Hume foolishly seeking to have her cake and eat it too, the behavioral and spatial credibility so clearly sought rapidly descended into laughably melodramatic indulgence.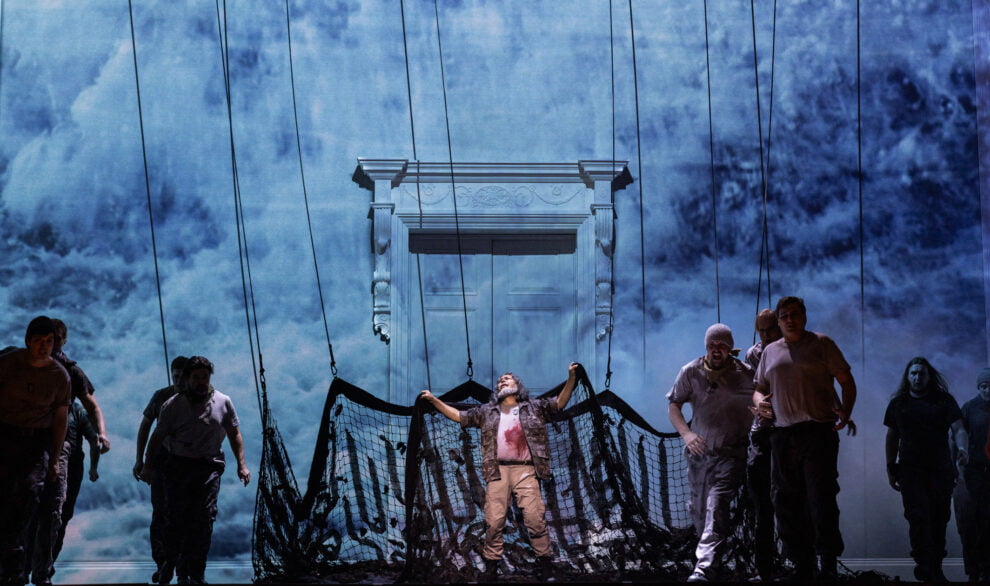 Steve Davislim, in the title role, was the evening's most egregious offender, hurling himself theatrically into the scenery on every dramatic chord, and with every protestation of anguish (and there are lots), practically slapping the back of his hand to his forehead as he draped himself across the furniture at 45°, à la Sarah Bernhardt or Lillian Gish. Sadly, the melodrama was catching, and eventually, the rest of the cast found themselves flouncing across the stage in like fashion, taking Hume's basic structure and amping it up to eleven with increasing willfulness. All of this might have been forgivable had it been stylistically consistent with the physical production, but it was not. Modern dress begs modern sensibilities, and the acting ultimately devolved entirely… mannered, ornate, and ACTED — in caps, bold, italics, & underlined. Even as I write I'm not sure if Davislim was trolling us, or in earnest.
The singing, however, was truly glorious, and for some, that's enough.
Despite the antiquated extravagance of his acting, Davislim sang with unflinching stylistic accuracy and elegance in the title role and gave real power and focus to his character through the vocal line. He was also the only principal who was consistently audible throughout the evening. Catherine Carby and Kathryn Radcliffe made fine work of Idamante and Ilia respectively, and Olivia Cranwell, despite some inelegant passages on opening night, delivered a fine Elettra, bestowing real conviction and emotional engagement upon her showcase arias. As Arbace, Michael Dimovski was, sadly, the only principal with any diction worth a damn, and sang elegantly. James Egglestone was entirely dependable as the High Priest, and Simon Meadows was luxury casting indeed as the Voice of the Oracle.
Benjamin Bayl and the Melbourne Chamber Orchestra gave a crisp and healthy account of the score, and Phoebe Briggs was on fire at the fortepiano, begging the question as to whether her billing in the program was commensurate to her value.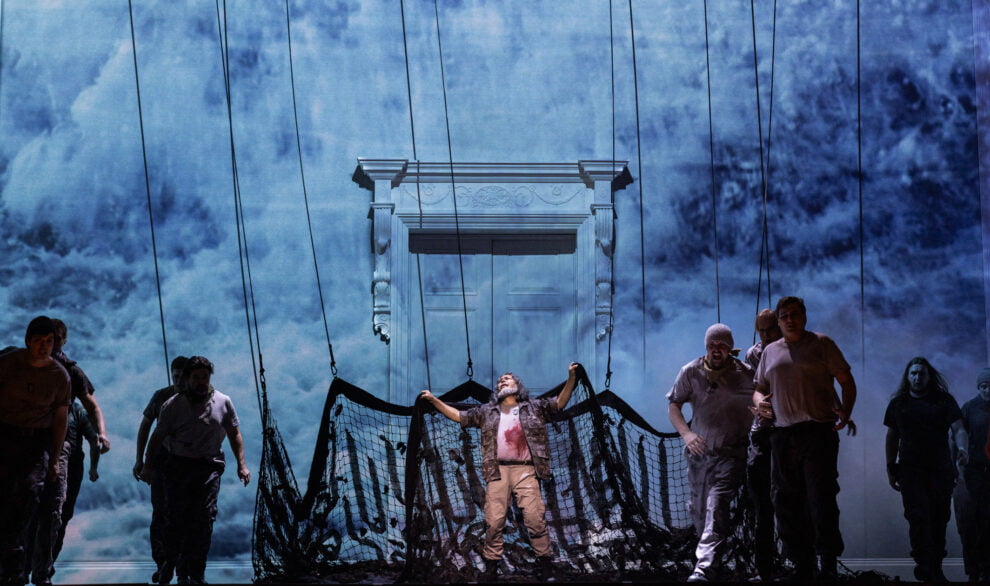 Michael Yeargan's austere unit set was simultaneously elegant and utilitarian, and a highly effective space in which to unfold the entirety of the drama. Its three symmetrical entrances only added to both the Shakespearean and the Masonic resonances, and if its conspicuous lack of a ceiling sent the cast's voices upwards into the fly tower rather than across the open orchestra, damaging the mix, it did allow the evocative and atmospheric projections of David Bergman and Catherine Pettman to effectively establish mood throughout the course of the evening, blending nicely with Verity Hampson's lighting. Anna Cordingley's costumes ran the gamut of suitably dull street clothes (albeit a little too clean and well-maintained for the opening chorus of refugees, methinks) to glorious and striking high fashion.
In the end, though, this production was yet another example of the misguided notion that heightened content requires heightened performance. There's only so much sauce you can add to something that already has sauce on it, and if the work itself is already scaling the heights, sometimes the most effective approach is to lean away from it and let it be. "Less is more" remains a thing.