LUCREZIA BORGIA
Donizetti's Lucrezia Borgia by Gaetano Donizetti. Libretto: Felice Romani, after Victor Hugo.
Athenaeum Theatre, Melbourne. Sunday, 28 August 2022.
Raymond Lawrence – Conductor
Helena Dix – Lucrezia Borgia
James Egglestone – Gennaro
Christopher Hillier – Duke Alfonso
Dimity Shepherd – Orsini
Melbourne Opera Chorus led by Chorus Master Raymond Lawrence
Gary Abrahams – Director
Music: 3,5*
Direction: 2*
You can have any review automatically translated. Just click on the Translate button,
which you can find in the Google bar above this article.
Given the sheer scale of staging a complete Ring Cycle, especially for a company of comparatively limited means, it's a wonder that Melbourne Opera are managing to stage anything else at all just at the moment. With Das Rheingold and Die Walküre already delivered in full, Siegfried (in concert) barely a few weeks away, and three full cycles on the roster for March of 2023, having a new production of anything thrown into the mix in the meantime was most unexpected, and a lovely surprise.
With two of their regular haunts, Her Majesty's and The Regent, both playing host to commercial musicals (Hamilton and Hairspray respectively), the company has returned home to where it all started back in 2003, the Athenaeum Theatre.
 Lucrezia Borgia stars the company's current star diva Helena Dix, and features many of the company's regulars, some of whom have been with the company since the day. This "school reunion" vibe might go some way towards explaining why this production feels like an afterthought. There's a homemade hastiness to this season that flows right down the decision to have its opening performance on a Sunday afternoon.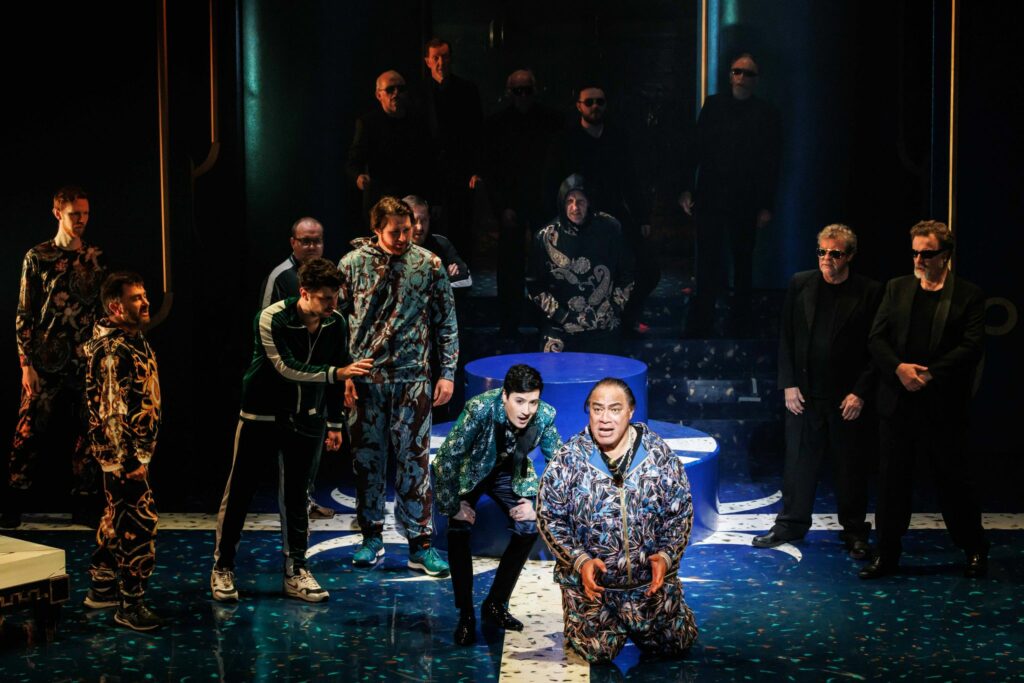 A less than full and, during the show at least, less than enthusiastic audience spread itself across a select portion of the Ath's 863 seats for the 3:00PM matinee.
What they got across the next two and a half hours was… a lot.
While much of the blame here belongs to the stage director Gary Abraham, the actual culprits across multiple productions begin to emerge as the board and artistic administration of this resourceful but willful organization, who appear immune to evolution, and content to recycle the same mistakes time and time again.
In the title role, Helena Dix veered wildly between ravishing, scrupulously cultivated pianissimi and some ill-advised, rough-edged attempts at gutsier dramatic singing. Unsurprisingly, given her experience and cachet, she was the only person onstage with any real clue as to the style required, for which she genuinely has our gratitude.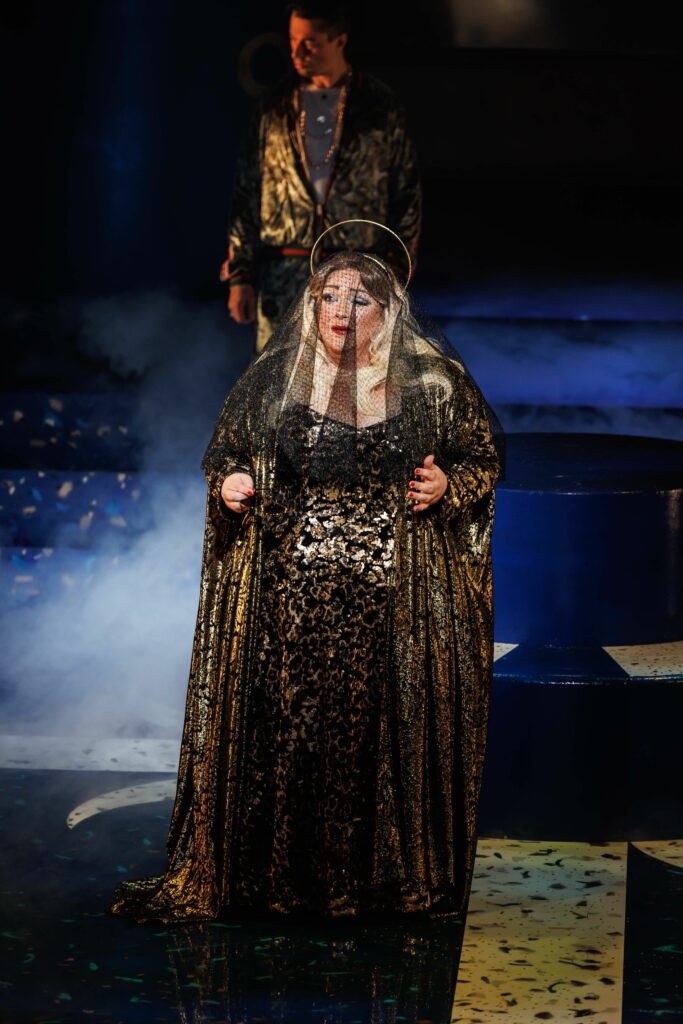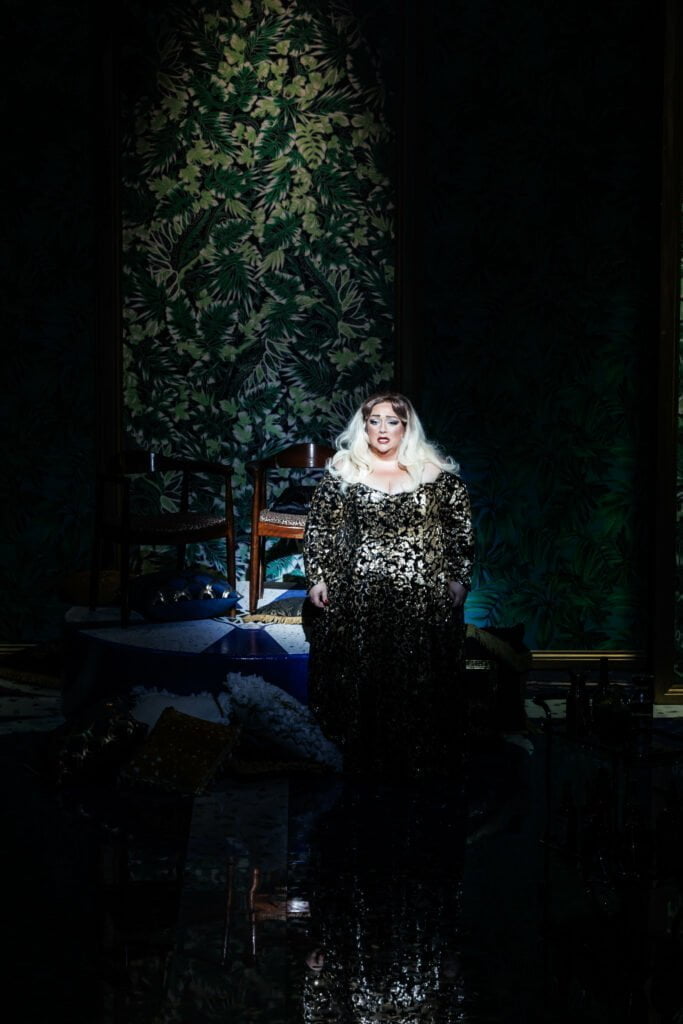 Dramatically, she was far more engaged than she was in Macbeth, but then this time around she had a director who actually gave her things to do, which doubtless made the difference. They weren't necessarily good things, as we've mentioned, and will speak to again momentarily, but at least they were there.
As Gennaro, James Egglestone recovered somewhat post-intermission following a rough first half, giving an impassioned send-off to this most peculiar of romantic tenor characters. Alistair Cooper-Golec had, however, taken the afternoon's tenor honors in the meantime, singing Rustighello with real confidence and managing a compelling dramatic realization of Alfonso's trusty righthand man. Dimity Shepherd was about as strong an Orsini as you'll find anywhere – singing, acting, and bounding around with tremendous commitment. Baritone Christopher Hillier made easy work of Alfonso, despite not having access to the lowest of the role's low notes, and received hearty applause for his efforts.
The remaining cast, costumed as they were in pyjamas and shell suits, struggled to preserve any measure of dignity. They managed varying degrees of failure.
Raymond Lawrence conducted solidly, managing to keep the orchestra in check despite some instrumentalists clearly not having yet fully emerged into their day – if the abundance of sour notes across the performance was any indication.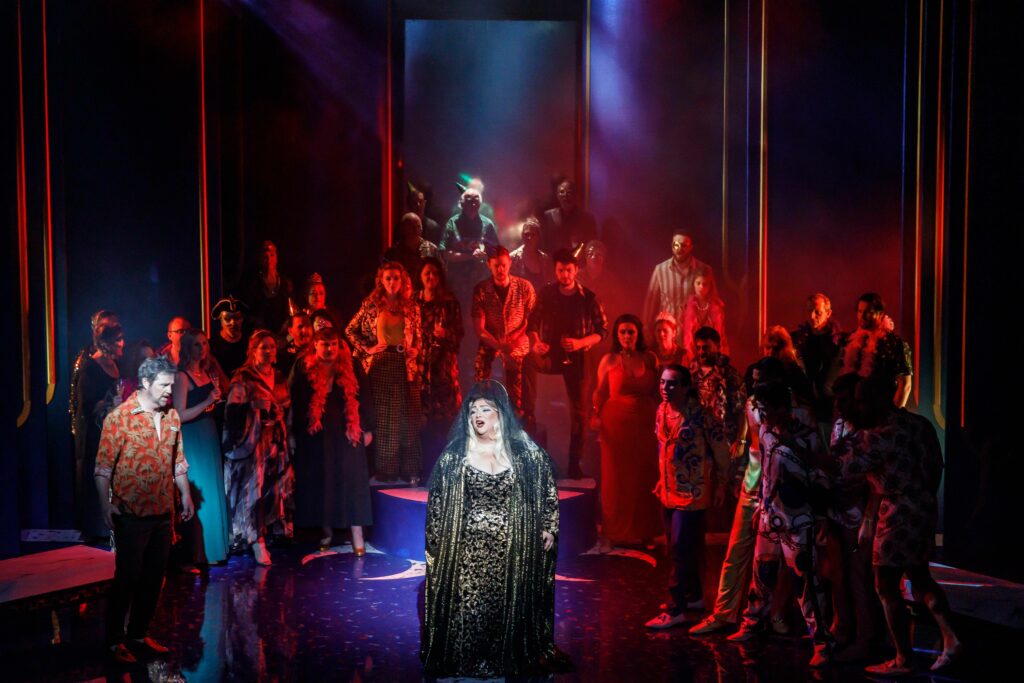 Greg Carroll's sets and Harriet Oxley's costumes were crass melanges (purposely so, I suspect) that, in terms of inspiration, couldn't seem to decide between Scorsese & DePalma on the one hand and Pierre et Gilles on the other.
Gary Abrahams adds his name to the growing list of "that'll do" directors working in opera in Australia. There was an infuriating and utterly avoidable emptiness at the heart of this staging where there should ideally have been some engaging and well-drilled storytelling. Even with the potentially arresting vulgarity of his Murano Glass / velour flares 1970s Mafiosi begriff, the blocking was generic and without imagination, with lots of to-ing and fro-ing and standing around waiting for cues while vast chasms of compelling narrative possibilities flew past unheeded.