"BLACK WATER". Opera by Jeremy Beck.
'Mercifully tonal for a contemporary work.'
Forest Collective, Friday August 18, 2023
St Stephen's Anglican Church, Richmond, Melbourne. Music & libretto: Jeremy Beck.  Adapted from the novella by Joyce Carol Oates. Staging: Jesse Matthews; Accompanist: Danaë Killian.
Rating: **
You can have any review automatically translated. Just click on the Translate button,
which you can find in the Google bar above this article.
In what effectively amounted to a semi-staged recital/concert performance, Forest Collective's presentation of U.S. composer Jeremy Beck's 2016 monodrama Black Water yielded a great deal of promise, even as its Poor Theatre aesthetic and, sadly, perfunctory utilization of a potentially arresting performing space presented issues with both dramatic engagement and musical comprehension.
Beck's score is mercifully tonal for a contemporary work — a hallmark, apparently, of the composer's output. If there were resonances of Sondheim in the work (and there most certainly was), it was never to the piece's disadvantage, and Beck has successfully realized much of the same balance the late Broadway icon was able to achieve across his storied career, specifically with regard to tunefulness and dissonance coexisting and complimenting one another within the same aural space.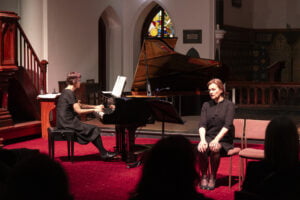 Adapting Joyce Carol Oates' novella of the same name, Beck centers the story on the speculative dying thoughts of Mary Jo Kopechne, the ill-fated 28-year-old political campaign worker whose tragic death as a passenger in US Senator Ted Kennedy's car in 1969 (the so-called Chappaquiddick Incident) derailed his presidential ambitions, even as he managed to escape more serious legal consequences for fleeing the scene and leaving Kopechne to drown in his submerged car.
Flitting (sometimes rather awkwardly) between the darkness and desolation of the murky waters of Poucha Pond and the giddy idolatry of the party at which Kopechne and Kennedy meet, the work charts a tricky passage from naive hopefulness, as Kopechne assures herself that Kennedy will return to rescue her once he's surfaced for air, to the bone-chilling reality of him having abandoned her and fled the scene.
Soprano Aleise Bright, accompanied at the piano by Danaë Killian, navigates a tricky vocal and dramatic journey with mixed success. Notwithstanding a nervous start and some ongoing flubs with text, her singing was sure and even, and continued to build in strength as the evening continued.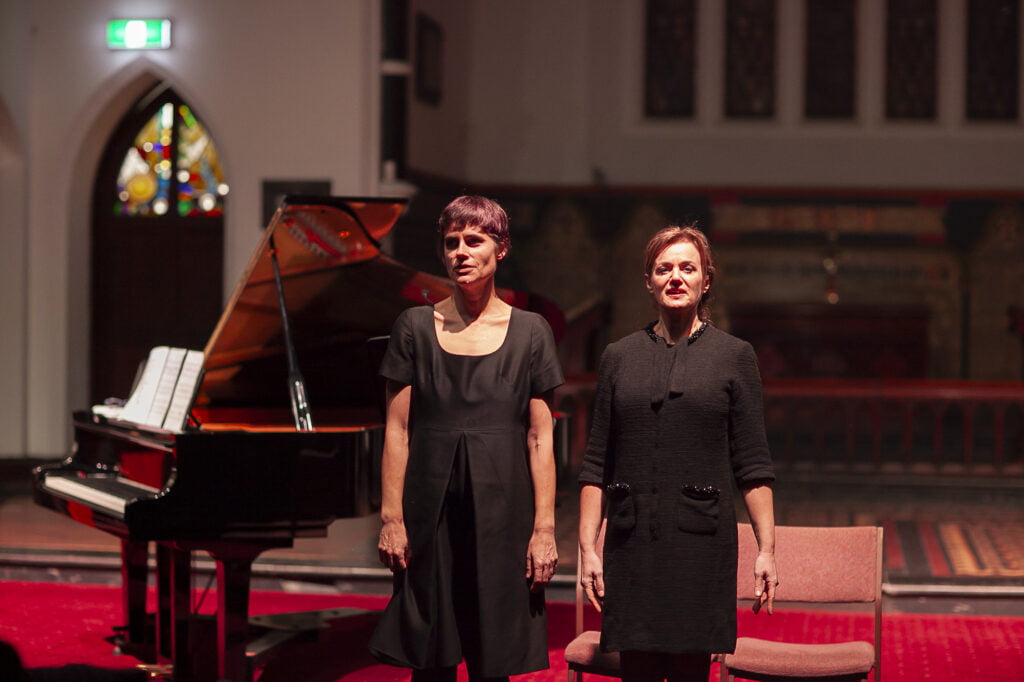 Simply but evocatively dressed by costume designer Jane Noonan, Bright had little to do but stand and sing, although choreographer Jesse Matthews managed to find one or two workable variations on this theme across the performance's slightly-less-than-one-hour duration.
The work itself strikes me as begging some form of overtly stylized staging to play effectively, and in a future evolution of their relationship with the work, perhaps Forest Collective could explore multimedia, more overt choreographic elements, or some form of similarly cross-disciplinary approach to its staging.
In the absence of such an approach, I would have greatly appreciated considerably more care with text (phonetically & psychologically) and a deeper, more nuanced engagement with the emotional landscape. Sadly, the evening felt underrehearsed, with both musical and dramatic elements frequently left wanting; mushy consonants and ambiguous vowels led to textual incomprehensibility, which lessened the work's emotional and dramatic grip, and dramatic engagement was "as read" at best.
Killian's playing was a solid and potent spine to the evening's music-making, even if little thought was given to aural balance within the venue, with the proximity of piano and vocalist frequently drowning out the latter.
I don't like being overly critical of ambitious young artists (any more than I enjoy being overly critical of established mid-career ones at the bigger companies), but I will always assume that feedback offered in good faith and towards the evolution of the art form, not to mention those devoted to presenting it, will always be welcomed by those who truly have their eyes on the prize.
As a promotional undertaking to familiarize artists and audience alike with Black Water's potential, and to work towards a more fully realized staging, with all boxes checked, this was, for all its faults, an entirely worthwhile presentation. – Also, the dog was awesome