You can have any review automatically translated. Just click on the Translate button,
which you can find in the Google bar above this article.
It's rare that the sheer ebullience of a production, or the obvious talent of a company, can make a critic overcome, however temporarily, their lifelong distaste for certain genres or musical styles, but Victorian Opera's reimagining of Shostakovich's Soviet-era comic operetta Moscow, Cheryomushki has certainly made itself very hard to dislike. Not that we were trying, of course, but it's still a nice surprise.
Shostakovich himself was reportedly quite embarrassed by his own score, and it's easy to see why. The oom-pah-pah, rum-ti-tum repetitiveness of it all can get quite tiresome after a very short while. But this kind of populist operetta exists, ultimately, to give us an undemanding evening of silliness, which is nice of it. So, there's that.
Constantine Costi's production moves at a healthy clip, with a manic, cartoonish energy that is very occasionally clumsy and ill-conceived, but always earnest and charming. In terms of sheer blocking, I can't tell where his contribution ends and that of movement director Shannon Burns begins, but the overall effect is strong.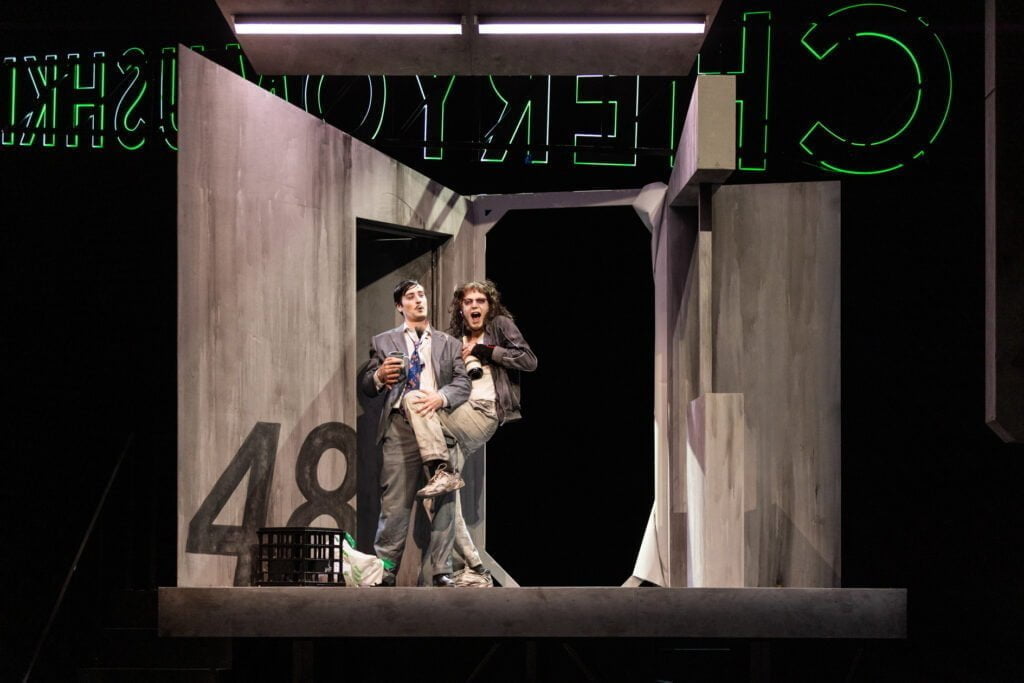 Costi has re-imagined the work for a modern Melbourne context, leaving the Soviet housing crisis of the 1950s to the Soviets of the 1950s, and rendering the satire incredibly topical and tangible for a Melbourne currently undergoing a very real housing crisis of its own. Not all of it works, but what does work works well.
No credit is given for the English translation being used — either the original base translation or the Melbourne-specific adaptation. The original clearly has some miles on it, as the sections that required no reworking bordered on twee and ye olde in some of its rhyming schemes and sentence structures, but all of the Melbourne references worked a treat, with some genuinely charming wordplay employed in offering up a veritable treasure trove of explicitly local gags.
The physical production also made numerous local references and was largely successful in translating the piece's concerns to mirror current events. The brutalist nature of Dann Barber's scenery managed to evoke both the original Soviet aesthetic and a good many of our current, utilitarian residential developments.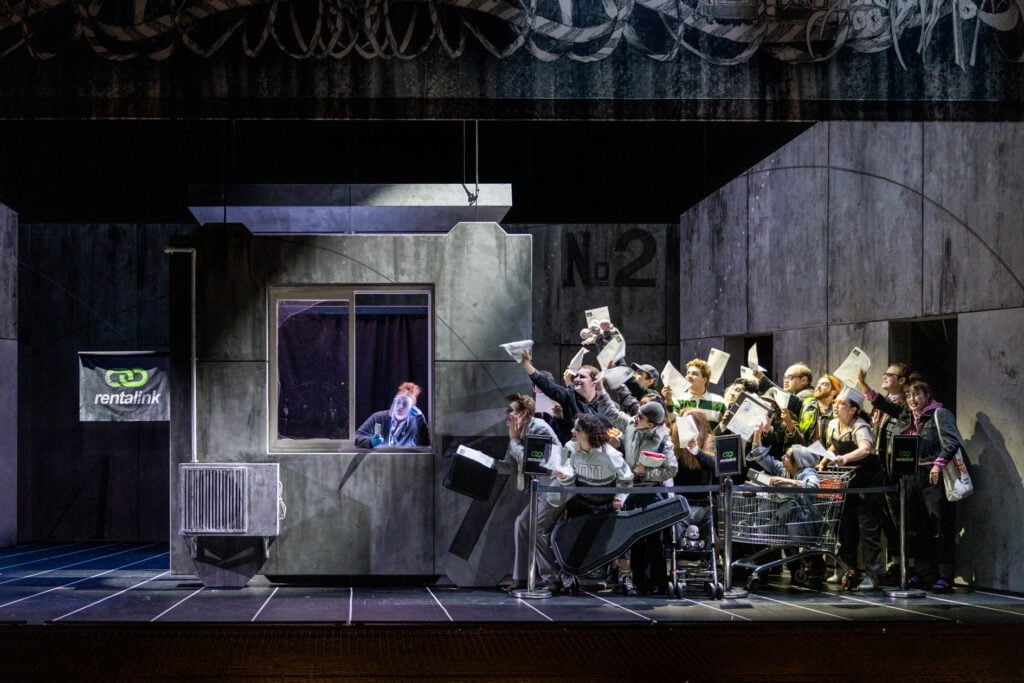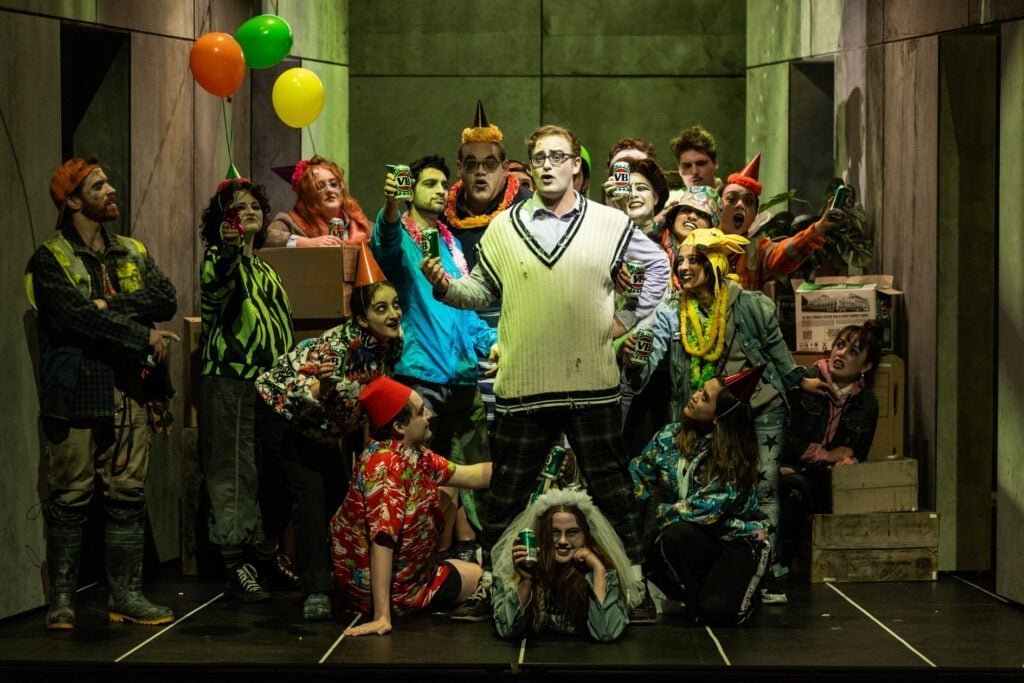 It also gave off a slightly retro-sci-fi vibe as well, in a The Fifth Element meets A Clockwork Orange kind of way. Sabina Meyers costumes helped with this, and very successfully straddled the line between absurdism and recognizable naturalism.
The ensemble cast was uniformly excellent. Standouts include Alastair Cooper-Golec, who gave us a vividly acted and strongly sung Drebednyov — funny, charming, and gross all at once (not quite Don Drakulich as Sleazy P. Martini, but definitely headed in that direction), Nicholas Beecher as Barabashkin, who was just plain gross (in the best possible way), and Amanda Windred, who was clearly having so much fun with Vava that the whole room couldn't help but join in.
Certain accents were inconsistent across individual performances, with several cast shifting rather conspicuously from Ocker accents for the spoken dialogue into teddibly proper Conservatorium RP for the singing. And whether it was Costi's direction or the cast's relative inexperience, the show was not without some eggy moments, especially a couple of awkward, thumb-twiddling lags where the final line of dialogue and the first words of the singing didn't always line up perfectly.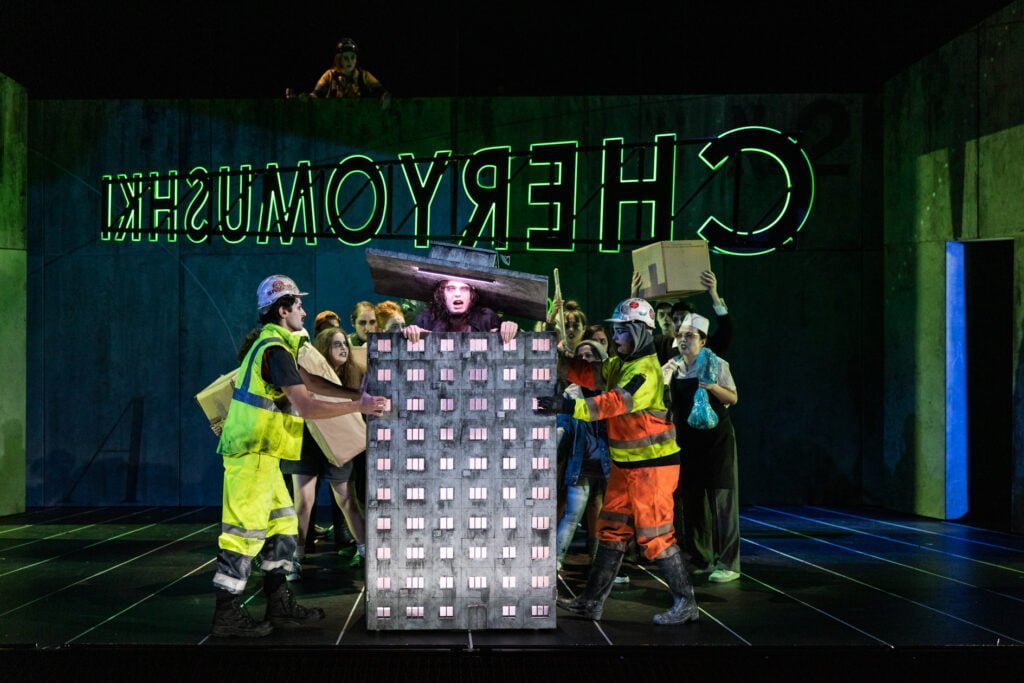 Diction was mostly good, which frankly negated the use of microphones. I suppose since they're packing so many shows together so tightly over the course of the season a little vocal marshalling is appropriate, but this is the second production I've seen this opera company do that has amplified trained voices, and I'm kind of keen to see them trust their singers enough to actually fill as comparatively small a room as the Arts Centre Playhouse. Actors can do it. It's a playhouse after all.
Simon Bruckard and the Victorian Opera Chamber Orchestra gave a brisk account of Gerard McBurney's 14-player reduction of Shostakovich's score, even if McBurney's adaptation does ramp up the overall rum-ti-tum-ness a little too much for our tastes.
For all our persnickety quibbles, though, in the end, a satirical comedy lives or dies on its ability to satirise and to be funny, and by those measures alone, and a few more besides, VO's production came within sight of perfection.