Fire Shut Up In My Bones by Terence Blanchard

triumphs at the Met.


Attended performance: Metropolitan Opera House, Lincoln Center, New York October 1, 2021.
Destiny/Loneliness/Greta: Angel Blue
Billie: Latonia Moore
Charles: Will Liverman
Char'es-Baby: Walter Russell III
Conductor: Yannick Nézet-Séguin
Director: Kasi Lemmons
Music: ****5****
Direction: *****5*****

---
The big, operatic news in New York has been that the Met is presenting the first opera by a Black composer in its 138-year history, but the real news is how potent, persuasive, chilling, and stunning Terence Blanchard's Fire Shut up in My Bones actually is. Debuted in St Louis to great acclaim a few years ago, it is receiving the same admiration at the Met. Based on a memoir by New York Times columnist Charles M. Blow, with a fine, singable libretto by Kasi Lemmons, the story is deeply personal and honestly told: Young Charles feels passed over in his family of five boys of which he is the youngest. His mother, Billie, is a hard-working woman, his dad a performer with an eye for the ladies. When he is seven an older cousin comes to visit and molests him, and while it makes him feel "wrong," he secretly acknowledges a certain pleasure. But the shame and confusion follow him for years – to relationships with women, to church, to his college fraternity and in his dreams. He eventually comes to terms with his bi-sexuality and his craving for simple love.
Blanchard is best known as a jazz trumpeter who has scored over 60 films, including several of Spike Lee's. But his tastes are very catholic; his father, a classical music enthusiast, loved opera and played it throughout his son's childhood. Blanchard loves La bohème and indeed, one feels some of the lushness of Puccini's scoring in Fire, without, perhaps the tunes. Still, Blanchard's work cannot and should not be characterized as a "jazz opera" or "modernist," and it is certainly not atonal. The clearly jazz sections, used particularly for the recitatives, are accompanied by a snare drum, piano and double bass, a decidedly jazzy combo. But much of the orchestration is luxuriant. Yes, Blanchard loves La bohème, but listeners will find no Puccini here, save for the composer's habit of doubling the vocal line occasionally with the upper strings.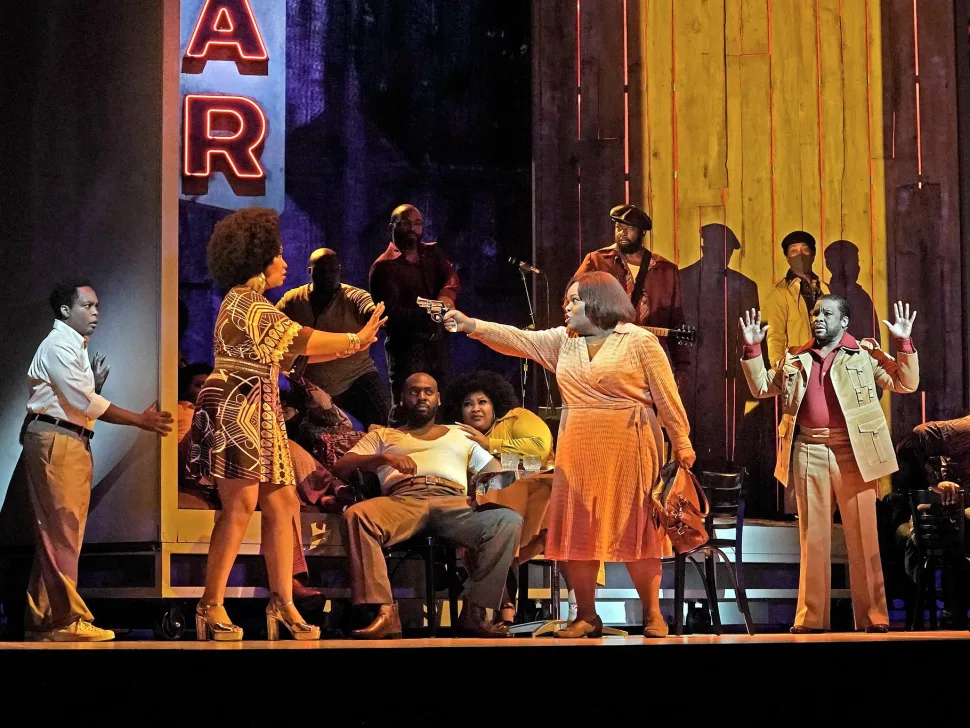 An operatic brass and orchestral fanfare are interrupted by something altogether different in the opening scene: grown up Charles, gun in hand, is driving back home to Louisiana, presumably to wreak vengeance on his cousin, the lonely, night time road is projected behind him (fine work from Greg Emetaz) and the orchestra sways beneath his angry vocal line. He sings "Someone must die, and maybe the part of me I despise will die with you."  It propels the story while commenting on it, in a jazz, rather than operatic medium.
At home, daringly, we next meet Char'es-Baby, the seven-year-old version of himself, in situ, with grown up Charles not only observing, but frequently singing the same words and tune as his younger self; it's both eerie and warm – past and present entwine. Later, as an adult, Charles has erotic dreams – he partners men and women, dressed in sheer brown from head to toe – and we get some ravishing ballet music. Then, surprisingly, at the start of act three, at the 20-year-old Charles' college, the fraternity brothers present a vigorous, complex step dance with a hip-hop-like chorus of spoken words, which is both fascinating and a welcome release of tension. (Camille A. Brown is the choreographer.) After a sad love affair with a woman named Greta, Charles calls his mother and hears that his molester has come to visit. In a rage, Charles gets in his car, and that is, full circle, where the opera begins.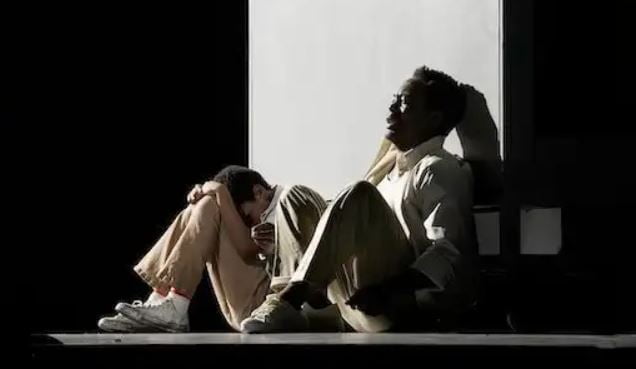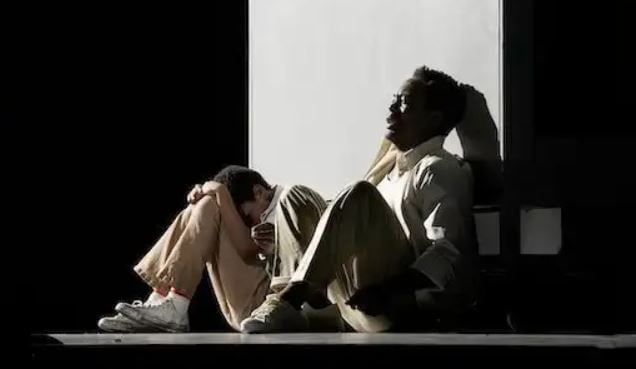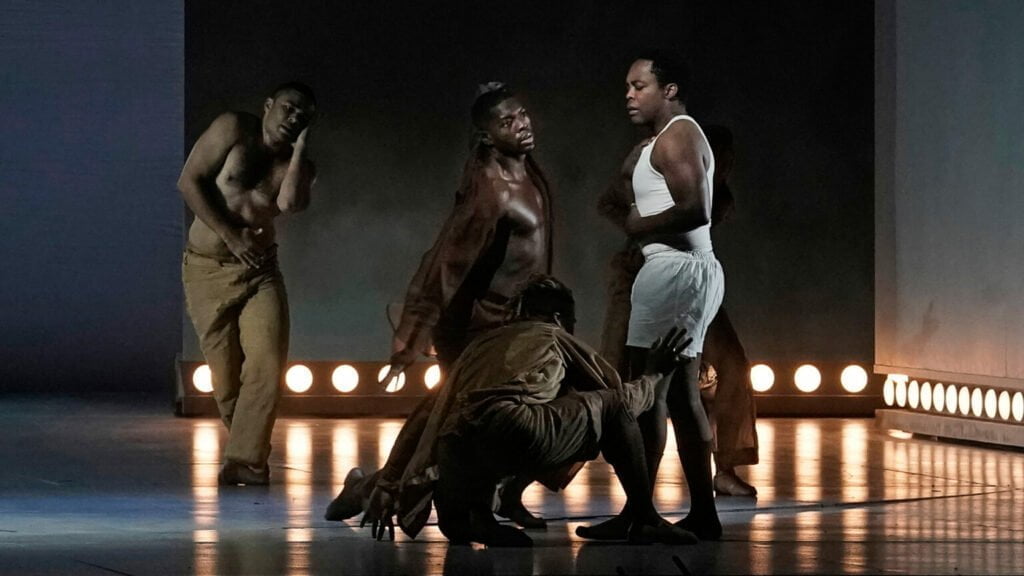 A rich, grand soprano
But since Charles has finally come to terms with his experience – we have seen his growth and change throughout the opera; Charles does not kill his cousin: the young Char'es Baby tells him to leave his rage behind. And Billie, his mother, reiterates that bad things happen, but sometimes "you just gotta leave it in the road." The opera ends quietly, in peace.
The performances are remarkable. Will Liverman's uses his elegant baritone as the adult Charles to wring every honest emotion of the character's plight, and 12-year-old Walter Russell III embodies Char'es-Baby with a sadness and desire to be loved and understood, combine with a lovely, piping treble voice, that avoids all sentimentality and makes the audience love him. He's referred to as "a boy of peculiar grace," an apt description. Two women play a huge part in Charles' life, both as a boy and man: His mother, Billie, hard-working, no-nonsense. She chases her cheating husband out of the house at gunpoint, but she keeps the family of five boys together. Personified magnificently by Latonia Moore, this portrait could not be more vivid. Angel Blue plays three roles, two in Charles subconscious: Destiny, whose half-pessimism helps to form Charles, and Loneliness, whose personification Charles knows too well. They are both Sirens, keeping Charles in his misery. She's also Greta, a woman Charles sleeps with and falls in love with – who then tells him she's involved with someone else. Ms Blue plays each one with candor, and a rich, grand soprano. Other fine performances come from Ryan Speedo Green as Char'es Baby's sympathetic Uncle Paul, and Chauncey Packer as Spinner, Billie's cheating husband, in a role reminiscent of Gershwin's Sportin' Life.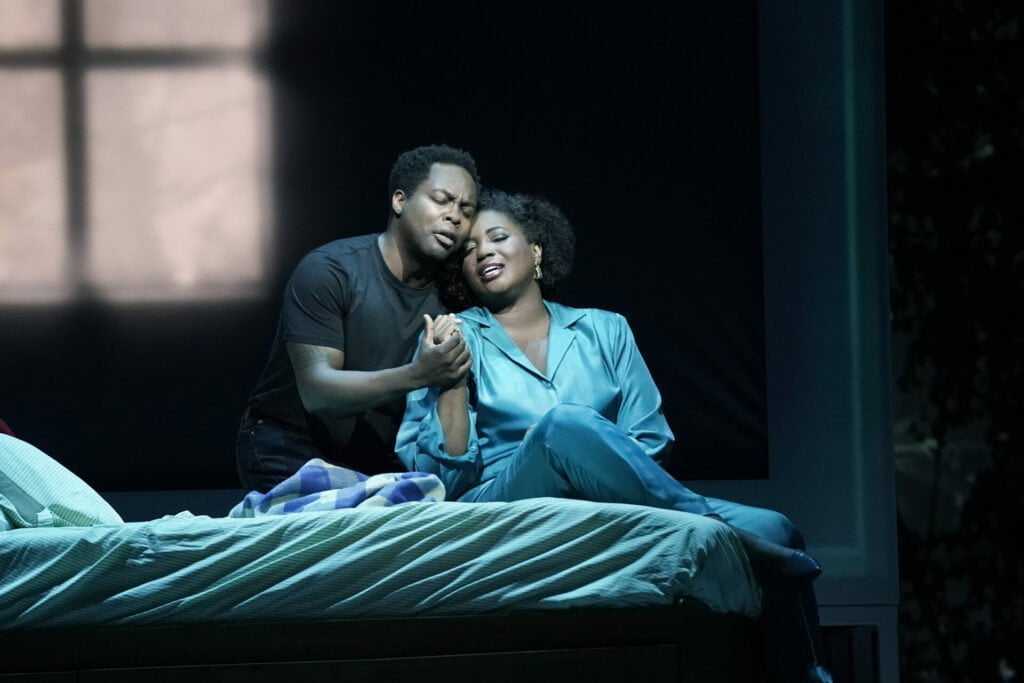 This is a wonderful work, with vocal lines ranging from arioso to wild exclamation and back; rhythms change without warning; the orchestra strips down and then regains its fullness. Within this grand hybrid, conductor Yannick Nézet-Séguin triumphs, breathing with the changes seamlessly, buoying up the singers.
The production will be seen in Los Angeles and Chicago. It should be a repertory staple.