Censorship in opera: still relevant today
Opera, that magnificent art form in which music, drama and storytelling come together, like many other art forms, has been a platform for pushing artistic boundaries and addressing diversity. Opera and censorship have had to face many a confrontation throughout history. Opera Gazet, an online opera magazine since 2009, has faced sabotage from the Dutch National Opera since 2018 because an Opera Gazet employee had written a critical opinion piece about this opera house's programming. "Punishment" for an opinion written down and published in a newspaper: it apparently still exists. Recently, the Melbourne Opera also refused to provide a reviewer from Opera Gazet with a press pass any longer because they couldn't handle critical reviews.
The power of opera
Like no other art form, opera, with its often emotional intensity, has the unique ability to captivate and move audiences. This art form deals with themes of love, politics, religion and human nature, with score and libretto often working together to either deeply touch or delight visitors. This powerful blend of music and storytelling was many a time a source of discomfort for those in political power. But even in our day, free speech, in this case reviews and other criticism, is a source of discomfort for many an intendant or opera house. Censorship shifted from performance to opinion about the performance.
The case of Opera Gazet
The opposition that Opera Gazet, an international opera magazine, faces from The Dutch National Opera is an anachronistic and distressing abuse. While expression (and, according to some, the excesses of expression: think of the Regietheater) is fortunately rightly not hindered, free speech, even with the consent of justice, can be sabotaged without any problem. Opera Gazet's reviews may have been perceived as provocative or critical, and for that, according to the Dutch National Opera, the magazine deserved punishment. But provocative performances, which are often perceived as distasteful by the audience, are always regarded without reservation and with much progressive enthusiasm as the epitome of revolutionary avant-gardism. In other words, such actions raise questions about the contradiction between the freedom of artistic expression, and the unfreedom of criticism of it. Within the opera world, freedom of expression is still incidentally subject to the whims of fossil potentates.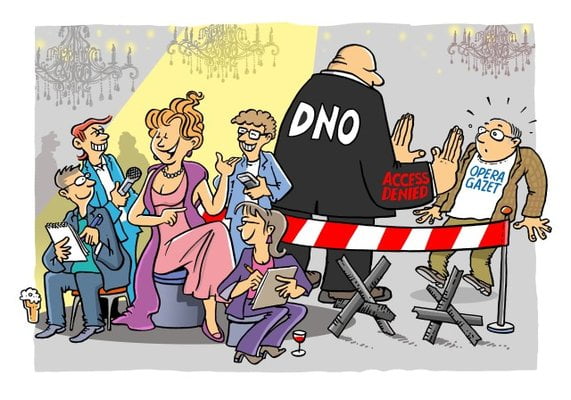 The historical context
As cited above, opera has faced censorship on several fronts over the centuries. In the 18th century, Mozart's "Don Giovanni" contained socially critical elements, which led to censorship. Verdi's "Nabucco" was linked to Italian unification in the 19th century, which also led to censorship, in Austrian-controlled areas.
 Controversy is not the Holy Grail
Contemporary opera often explores themes that supposedly push the boundaries of the permissible. Director Konwitschny incorporated into "his" Salome some erotically intended monstrosities and also changed the libretto. In some theaters, Konwitschny's betrayal of Strauss and normal decency led to Old School censorship. The performance was banned. Unique in our time frame. Recently, John Adams' "The Death of Klinghoffer" again sparked controversy because of its anti-Semitic and anti-Zionist elements.
Artistic freedom and responsibility
Central to the debate about censorship in opera is the fact that artistic freedom also entails social responsibility. Operas that challenge norms and push the boundaries of the permissible: agreed! It may not be the primary task of opera, but it is allowed. The freedom of critics in such works to denounce the fashionable, the lack of respect for composer, librettist and audience, should be inseparable from artistic freedom.
"In World War I, people were killed by pressing a button."
The role of institutions
Opera houses like De Nederlandse Nationale Opera are not only guardians of culture, however dubiously that task may be interpreted, but they cannot shirk the social duty to give reviewers free rein. Opposing a medium like Opera Gazet can be seen as a narrow-minded attempt to keep the fear of criticism out of the door and to keep artistic discourse out of the way.
The way forward
In an age when artistic expression and freedom are virtually untouchable, it is essential to find a way forward that respects both artistic integrity and the social imperative of being open to criticism. Opera, with its ability to provoke involvement and emotions, cannot shut itself up in an ivory tower, isolated enough to keep out unwanted noises.
Conclusion
The experience of Opera Gazet highlights the privileged position of artistic freedom shielded from unwelcome sounds through censorship. On the one hand, the "modern music theater" pretends to continue to evolve and challenge societal norms; on the other, it is crucial for opera houses to engage in thoughtful dialogue about where those boundaries should lie.  The power of opera to provoke thought and emotion should not be stifled, but neither should free speech. Opera also bears the responsibility to participate in social debate. By antagonizing representatives of the free press, opera houses are not on the right track.
Emil Janković