Thaïs, inspired by Anatole France's novel and staged for the first time at the Palais Garnier in 1894, has been staged at La Scala just once in 1942 under the baton of

Gino Marinuzzi

. Massenet's refined and exquisite score aptly evokes the literary source, inflecting the dialectic of sin and redemption in a spectacular exercise in style combining erudition, exoticism, and sensuality.

Lorenzo Viotti

continues the exploration of French music that began with Roméo et Juliette in 2020. Direction by

Olivier Py

.
Thaïs: Marina Rebeka; Athanaël: Lucas Meachem; Nicias: Giovanni Sala; Crobyle: Caterina Sala; Myrtale: Anna-Doris Capitelli; Albine: Valentina Pluzhnikova; Charmeuse: Federica Guida; Palémon: Insung Sim; Servant: Jorge Martínez; Cenobites: Luigi Albani, Renis Hyka, Michele Mauro, Andrea Semeraro, Massimo Pagano Giorgio Valerio; Soloist dancers: Emanuela Montanari, Massimo Garon
Music: 4*
Staging: 2*
Dear readers, we are in a serious conundrum about how to start our commentary on the performance of Massenet's Thaïs at La Scala last Saturday. So we would like to invite you to imagine that you were there in our place. You are ready to enjoy an opera rarely performed, an opera you have never seen live on stage; yet you know it very well, having listened to numerous recordings, watched a few videos, and read and even studied the libretto. You are aware that the story takes place in Egypt in the fourth century A.D., and you expect to see monks, nuns, sinners, the Nile, Alexandria, and the desert.
The curtain opens… and you begin to wonder. Because you see a sort of a bleak city square, a small table being placed in the middle of the stage, a large pot brought in, and a man and a woman in Salvation Army uniforms starting to distribute soup to a bunch of poor or homeless men.
The choir starts to sing, but nothing they say makes any sense. And pour cause. They should be the monks, Athanaël's confreres, praying, preparing to eat their simple supper, and hoping for him to return. Nothing you see has anything at all to do with the opera you expected to watch. The scene is totally incomprehensible. You are more than perplexed. You are shocked.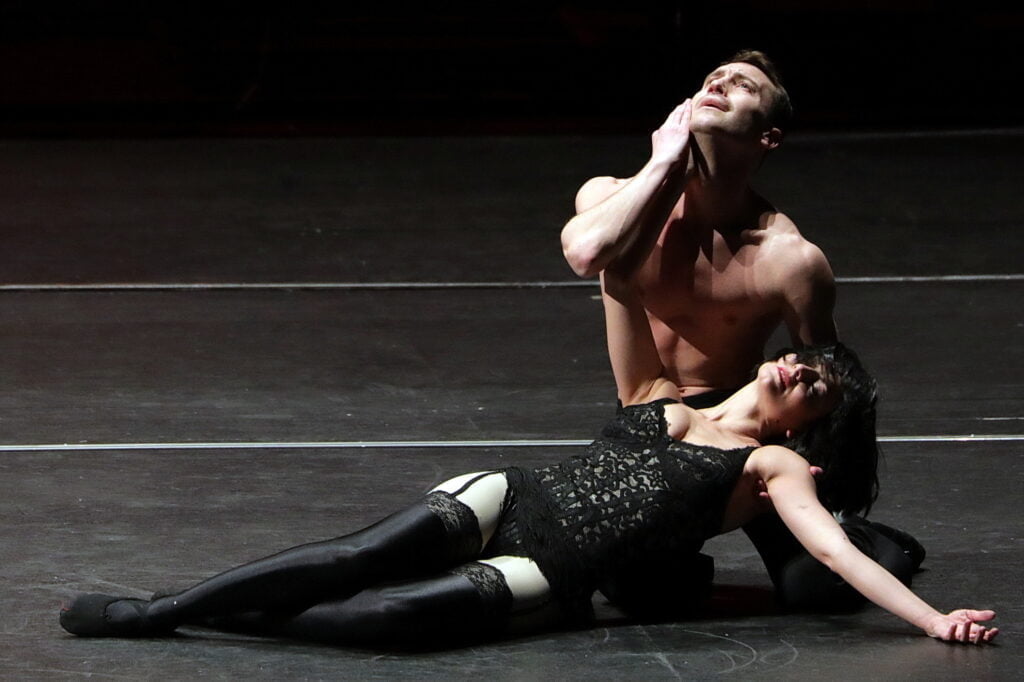 Of course, the scenario we have pictured is sheer fantasy. Of course, you are prepared. You know from extensive experience that seeing an opera staged according to the original story is an extremely rare event nowadays. And so you bravely brace yourself to endure the production and, if possible, enjoy the music.
The story is well known. Athanaël is a monk who used to live in the city of sin and has experienced the temptations of the flesh. But he is now determined to save the soul of Thaïs, the most notorious sinner of Alexandria. He succeeds in his intent, and accompanies the repenting Thaïs, across the desert, to a convent of nuns. But getting to know Thaïs so closely is fatal to him. He falls in love with her and is consumed with passion. Knowing that the woman, destroyed by penances, is close to death, he rushes to her to reveal his love. But Thaïs now belongs to God; she no longer understands human passions and passes away trusting in heaven. The last meeting between the two is a dramatic dialogue between the deaf, a scene of great musical and theatrical suggestion.
Slick city broker
Very little of all this is conveyed in the representation we have witnessed. It didn't help that we couldn't figure out who Athanaël is, according to the director's staging. The characters are dressed in modern clothing, but even that shouldn't be a problem, given that Athanaël is a monk and should be dressed like one. Instead, he wears clothes more fitting for a slick city broker: a three-piece suit with a white shirt, tie, and overcoat. Apparently, he's not even a member of the Salvation Army, nor is it clear why Palémon, who is in charge of it, seems to have some authority over him. Above all, if Athanaël is not a monk, it's almost impossible to understand his obsession with chastity, his obstinacy in converting Thaïs, and his torments regarding temptation. In short, the whole story loses all sense.
Apparently, the director, the famous (or, according to some, infamous) Olivier Py, doesn't care about that at all. What interests him most, it seems, is to stage a spectacular tranche of the city of sin, with Nicias' and/or Thaïs's palace – equipped with a dining hall (or a night club) a theater, even (it seems) a gym – all full of people eating, drinking, and engaged in a range of sinful activities. A few, here and there, are naked or nearly naked (if that was meant to get people talking, it didn't work, since few care about that anymore). Add a background with two enormous rotating structures studded with red lights, which make you think of a funfair. In short, the sort of "special effects" which distract from the singing and the music – to the chagrin of those spectators who had gone to the theater hoping to be able to pay attention. Even the famous and beautiful "Meditation" is transformed (as unfortunately almost always happens), into the soundtrack for a choreography, performed by a couple of dancers, while, according to our perception, it should represent Thaïs' soul-searching path towards her conversion. A choreography undoubtedly enjoyable and beautifully performed, but one that hopelessly distracts from fully enjoying the music, which we would have preferred to listen to with our eyes shut.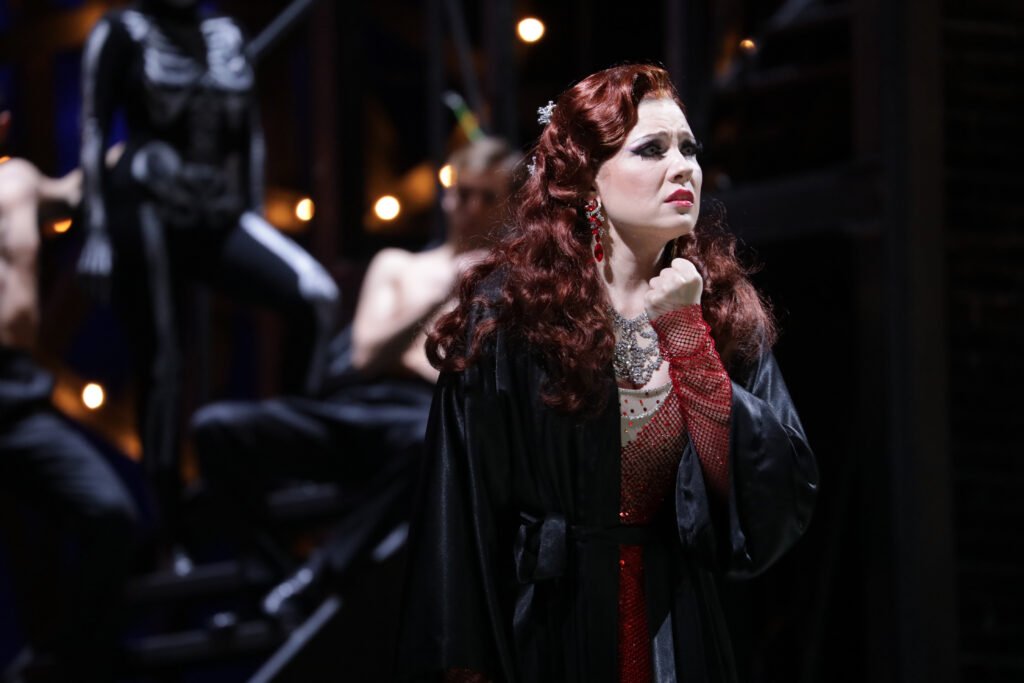 And here we come to the really important part of the evening. Because the music and the singers more than deserved the audience's attention.
In the role of the protagonist, Marina Rebeka confirms her reputation as one of the most interesting and versatile sopranos of the last years. We already admired her moving Violetta at La Scala, performed in semi-stage form during the first, cautious relaxation of Covid-19 restrictions. Here, too, in a completely different role, we were able to fully appreciate her beautiful voice, her impeccable technique, and her stage ability. Once again, Marina Rebeka moved us. But here Thaïs also knows how to provoke and seduce. She knows how to be brazen and she knows how to be penitent. In short, a splendid artist. By her side, the American baritone Lucas Meachem, called up at the last moment to replace Ludovic Tezier, felled by Covid, holds the role of Athanaël very well. Perhaps he understandably displayed some uncertainty and imbalance in phrasing at the beginning, but his performance is a crescendo, rising to a truly engaging and highly effective ending.
A special mention goes to the young tenor Giovanni Sala, (very involved by the direction) who makes the best of Nicias, a decidedly ambiguous character, and lends to the difficult role a good voice, a sure technique, and a stage ability that is anything but common. The bass Insung Sim is an authoritative and fatherly Palémon. No less than exceptionally good were the performances of the other members of the cast, (among which also two students of the Accademia della Scala, mezzo-soprano Valentina Pluzhkikova and baritone Jorge Martinez). And ça va sans dire, the choir and the corps de ballet of La Scala are, as always, more than up to the task.
Lorenzo Viotti
Last but not least, it is necessary to underline the excellent performance of the young conductor Lorenzo Viotti, who, perfectly seconded by the always excellent La Scala orchestra, gave a reading of the beautiful Massenet's music that was attentive to every nuance, engaging, moving, and exciting.
Let's now draw our conclusions about the whole show. The orchestra played Massenet's Thaïs (well). The singers sang (well) Massenet's Thaïs. Unfortunately, the staging was, mostly, only vaguely (and sometimes not at all) akin to Massenet's Thaïs. And that's that.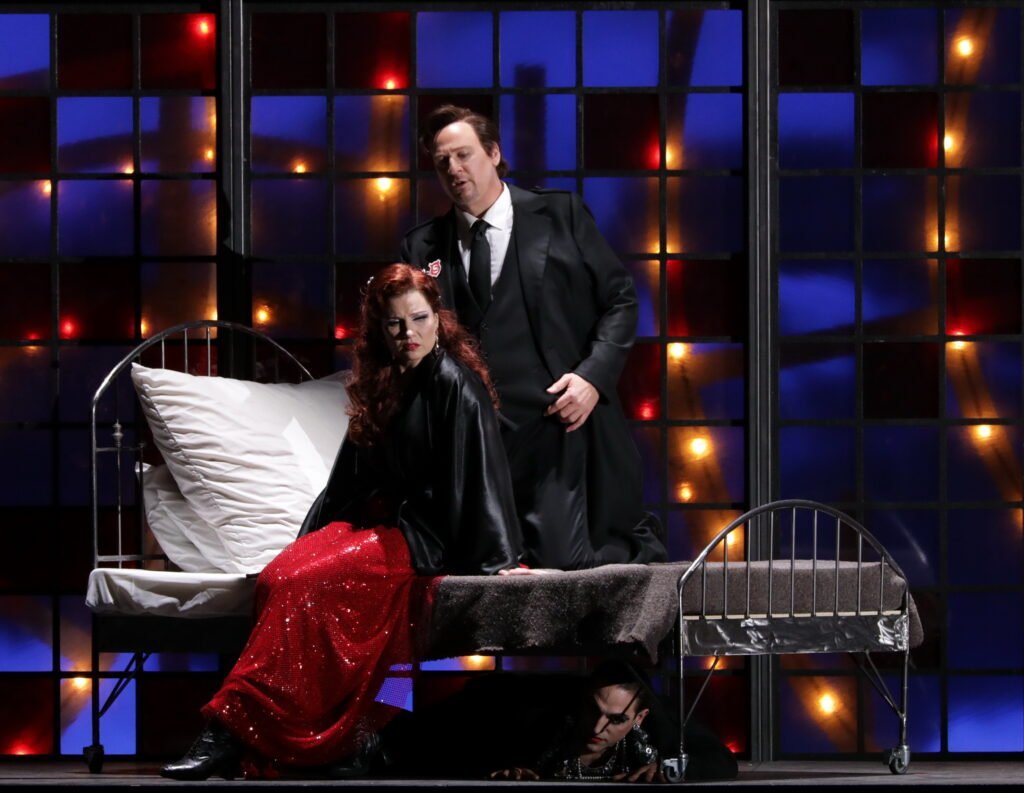 Rather incongruously, in our opinion, an accurate and faithful synthesis of the original libretto, act by act, scene by scene, is published, in numerous languages, in the accompanying booklet. Unfortunately, almost nothing of what the reader finds there is represented on the stage, and we can only imagine the confusion this kind of contradiction generated, especially in the inexperienced spectator. What we hear is Massenet's Thaïs; what we see is mostly an invention of the director, his personal "vision" of the opera, his way to "explain" the opera to the audience.
But we don't need, we don't want an opera explained to us. The composer and the author of the libretto have already told the audience everything they need to know and understand. What we need is for any opera to be adequately (or better yet beautifully) staged, played, and sung. Nothing less, but, above all, nothing more.
Any "producer's" personal views are not of interest to us. We are adults. Contrary to what most directors believe, audiences are more than capable of thinking for themselves.
Marina Boagno
Thaïs – Teatro alla Scala
Feb. 19, 2022
Do you have a comment? You can post it in the space below. Facebook comments are NOT read by most of our reviewers.