Die Walküre (The Valkyrie) by Richard Wagner. Music drama in three acts. The first day of Der Ring des Nibelungen (The Ring of the Nibelung). 1856. Libretto by the composer. First performance at the Königliches Hof- und Nationaltheater, Munich, on 26th June 1870.
You can have any review automatically translated. Just click on the Translate button,
which you can find in the Google bar above this article.
Die Walküre by Richard Wagner

Melbourne Opera continues its Ring cycle with Die Walküre, led by Wagner specialist Anthony Negus and directed by Suzanne Chaundy. Warwick Fyfe stars as Wotan with Zara Barrett as Brunnhilde, Lee Abrahmsen as Sieglinde, Bradley Daley as Siegmund and Sarah Sweeting as Fricka, leading an all Australian cast.
Melbourne Opera, Wednesday February 9, 2022. Her Majesty's Theatre, Melbourne
MUSIC  *4.5*
DIRECTION  *2.5*
Melbourne's relationship with Wagner goes right back to when the composer was still alive. An 1877 Melbourne production of Lohengrin, sung in Italian, prompted a correspondence between the maestro and one Emil Sander of Melbourne, in which, among other things, Wagner urged that any further stagings of his operas in the ever-growing colony be given in English, since only in that way, he insisted, could the works "be intimately understood by an English-speaking audience".
It saddens this critic that, much like the Prince of Wales Theatre in which those performances took place, the art of opera in translation has – with rare exceptions – been abandoned to the mists of memory in this country. Despite a very occasional foray into vernacular performance (most recently their 2018 presentation of Rossini's Otello), Melbourne Opera has, for the most part, maintained its loyalty to the international opera franchise, and stages most of its shows in the one-size-fits-all "original" language, including in its now numerous adventures with Wagner.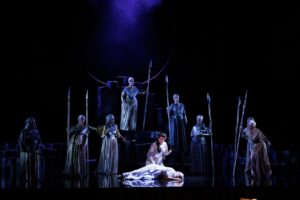 And when it comes to Wagner, there are no questions about the company's ambition. Without a lick of public funding, they've managed to carve a respectable niche for themselves as a presenter of Wagner in Australia. With Lohengrin, Tannhauser, Tristan & Isolde, and Der Fliegende Holländer already off the to-do list, they are now officially two instalments into the four-part limited series that is Der Ring des Nibelungen, with a view to finishing the cycle by the end of 2023, Covid permitting. That they've managed to do it with an almost entirely Antipodean creative team and cast is deeply impressive. It's nothing like perfect, but it's deeply impressive.
There is much to admire in this new production of Die Walküre, but there are quibbles too. The company's comparatively limited financial means preclude them from always perfectly acquitting the obviously very strong vision they have for the show. Thus, while there were some extremely effective coups-de-theatre in our evening, some of the effects were less than they could have been, and the homemade quality of certain scenic elements that we noted in last year's production of Macbeth remain. But based on the ideas alone, and the chutzpah in attempting them, we suspect that the shortfalls are much more to do with wherewithal than with will.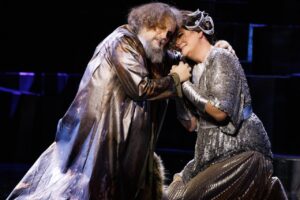 Hunding's abode was serviceable and suitably foreboding, although it did smack of a modern architect's nouveaux-rustic vacation lodge rather than an actual rustic mountain abode. Act Two started with a legitimate piece-de-resistance of staging, and a fine example of when creative vision and practical staging coalesce most effectively, with the desired effect being achieved so beautifully that it received a well-deserved round from the opening night audience. The iconic Act Three opening was also successfully and creatively realized, even if the Occupational Health & Safety considerations for the Valkyries' descent into Valhalla are altogether too much to contemplate. Sadly, Loge's ring of magic fire in the climactic moments was a significant letdown, staging wise. It was a perfectly good idea in theory and might have been a tad more effective had the technology being used to generate it been more effectively concealed from sight, but you could quite literally see the seams. It got the point across, but its execution was inelegant, which was a real shame.
But what of the music? It is, after all, the thing that drives the whole enterprise. Maestro Anthony Negus conducted the Melbourne Opera Orchestra briskly and sensitively. From where we were sat, the mix was solid and sympathetic, and it was clear that Negus understood the need for balance implicitly, which can be rare, especially in this repertoire, where flat-strap bombast can often be the order of the day by default and overwhelm both cast and auditorium.
Vocal honors for the evening went to Warwick Fyfe's Wotan. His baritone is deliciously sonorous at the bottom and has a lovely snarl across the remainder of the voice, and he was always dramatically engaged, even when hampered by some of the more egregious absences in direction (more of that anon), not to mention his onstage lozenge and water game, which took this critic out of the drama on occasion. Bradley Daley (Siegmund) has a clear, bright dramatic tenor, which he employed to significant effect, even if he could afford to be a little more physically engaged – he looked, frankly, a little bored at times. Lee Abrahmsen sang with clarity and power, and made short work of Sieglinde, dramatically riding a nice balance between the lover and the fighter. Sarah Sweeting was an effortlessly commanding Fricka, physically and vocally, and Zara Barrett's force-of-nature soprano was able to forge a sympathetic path through Brünnhilde's vocal and dramatic complexities. Steven Gallop's Hunding finally hit his straps in Act Two.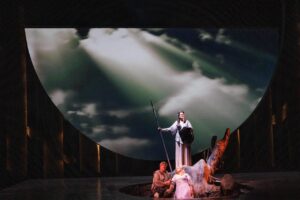 The Valkyries were all on top form, but given its all-star lineup, is it any wonder? It was especially touching to witness Melbourne's opera cognoscenti briefly drown out the iconic Act Three opening to welcome back Rosamund Illing, one of our nation's most renowned sopranos, returning to the stage after an enforced absence to sing (wonderfully) Valkyrie squadron leader Gerhilde. Luxury casting indeed.
Sadly, the elephant in the room at Melbourne Opera yet again is the direction. Suzanne Chaundy had some very good ideas for certain moments, but as the oft-quoted witticism of Rossini's reminds us, in Wagner, it's not the moments that count, but the three-quarters-of-hours. Vast reams of the evening were two singers at the front of the stage semaphoring to one another. Or worse, standing there for quite literally minutes at a time doing not a damn thing. Literally not a thing. We'd like to think there was a purpose behind such blatant stagnancy, but we couldn't discern it.
We don't need constant business for its own sake, or conceptualized movement (ugh… fates forfend), but if there's to be a human connection, a little emotional and behavioral familiarity wouldn't go astray; recognizable human beings who walk and talk like they're actually having conversations of the weightiness and intensity that these characters are. As one icon of Australian theatre told this critic in his youth, simplicity and lack of invention are not the same thing. Mapping credible interpersonal dynamics isn't easy, but it's essential for drama to be transcendent. If we in the audience cannot recognize the simple, organic familiarity of two people conversing about matters of great dramatic import, then our sympathy for them, and our engagement in their struggles, is markedly less than it should be.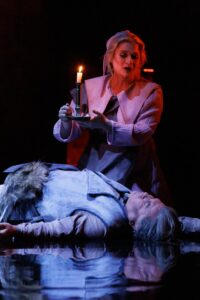 In its totality, Melbourne Opera's Die Walküre – and its Ring Cycle in general – is testament to the company's sheer willfulness and tenacity. There's no doubting their drive, ambition, and resourcefulness, and even with our misgivings, we remain genuinely excited to see what Siegfried and Götterdämmerung bring to the table.
David Meadows
NB: There were at least two egregious misprintings in the program – one affecting Mr Fyfe's biography, which appeared in its final sentences to deviate into credits belonging to his predecessor, Das Rheingold Wotan Eddie Muliaumaseali'i, and the other affecting Ms. Chaundy, who has two wildly non-sequitur paragraphs about Shakespearean opera added to the very end of her Director's Statement.