The man on the moon –
and the man on earth
In July 1969, Neil Amstrong was the first man to land on the moon. And, also in July, a young tenor made his debut at the Arena di Verona: Plácido Domingo sang Calaf in Turandot, alongside famous soprano Birgit Nilsson. The critics were full of praise about that Spanish singer who convinced everyone with his golden, ringing voice, his charismatic stage presence and his good looks.
Music:
Staging:
Half a century later, Neil Amstrong is only history, but the Spaniard is still there. Domingo switched from tenor to baritone, but is still convincing with his golden, ringing voice, his charismatic stage presence and his good looks.
On August 4th, 2019, the last of a series of performances took place which the Arena di Verona had planned in order to honour the opera star who had performed in the famous venue for almost half of its own history!
"Plácido Domingo 50 – Arena Anniversary Gala" was the title of the evening – and, of course, Domingo was the centre of attention.
He could have taken the easy way: performing some popular arias, some well-known songs – and it would have been a success in the completely sold-out arena. But this would not have been "Domingo-like". So, he decided to perform three of his key-roles in the baritone repertoire: Nabucco, Macbeth and Simon Boccanegra.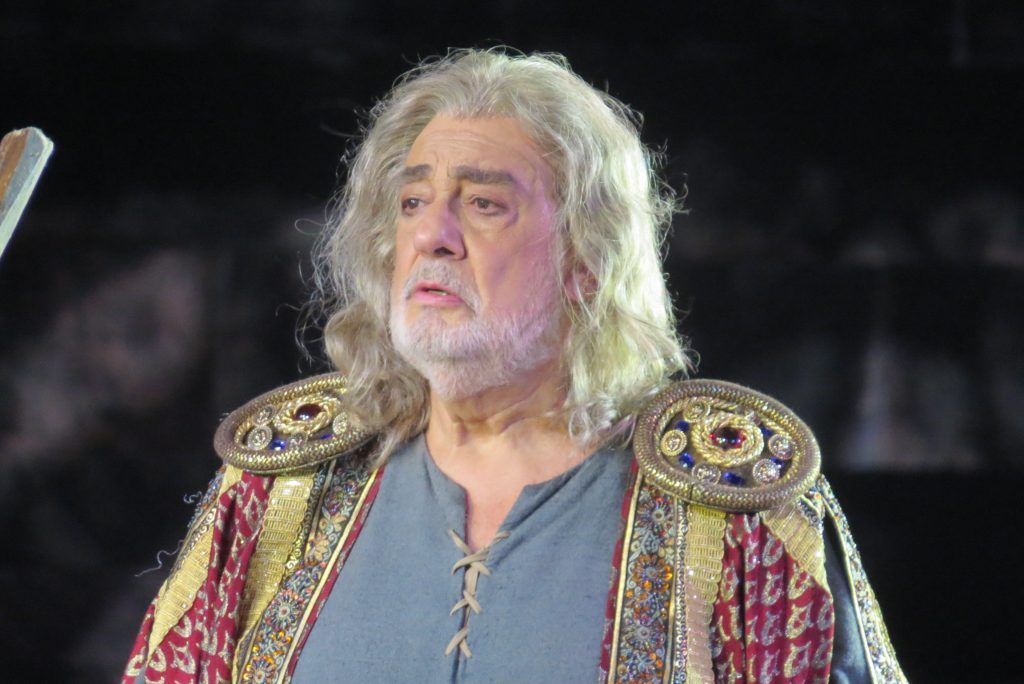 Different scenes of these three operas were presented in staged versions, and the hosts made a lot of efforts to make them most impressive for the audience.
Starting with scenes from Nabucco (Act III and IV), the spectators were showered with highlights of Verdi's masterpieces. The famous and popular "Chorus of the Hebrew Slaves" was the first one. Sung by hundreds of chorus members, it was spectacular – especially, when they repeated it whilst walking through the first rows of the orchestra stall seats, holding little lights in their hands. Goosebumps alert!
As Nabucco, Plácido Domingo impressed especially with his "Dio di Giuda", singing the aria whilst kneeling!
Part 2 were scenes from Macbeth, Act IV. Arturo Chacon-Cruz as Macduff and Anna Pirozzi as Lady Macbeth could show their vocal abilities –  Pirozzi in the madness scene, Chacon-Cruz with "O figli, o figli miei" and "Ah, la paterna mano". Domingo's highlight in this part was a strong, powerful and deeply moving "Pietà, rispetto, amore".
As final opera they had chosen scenes from act II and act III of Simon Boccanegra with Chacon-Cruz as Adorno, Pirozzi as Amelia and Marko Mimica as a very strong Fiesco. Chacon-Cruz impressed with "O inferno! – Amelia qui!" and together with Pirozzi in their duet "Tu qui? Parla, in tuo cor virgineo". But all above shone once again – the star of the evening. In the final scene of Act III, he presented all that made him praised by many as "the king of opera": powerful singing from fortissimo to pianissimo, touching acting, and unbeatable charisma. And he proved that  "age is just a number". The 78-years old Doge's dramatically falling to the ground when he died – just like a stuntman! – made people holding their breath.
And back on his feet he jumped to accept the well-deserved applause, not only for his 50 years at the Arena, but also for the total commitment to his roles on that evening.
In the background, on the stone steps behind the stage, there appeared huge letters "50 – Domingo", which were ignited – and while his name was shown in burning letters, glorious fireworks took place.
Showers of flowers, a huge banner with "Plácido, we love you", chanting, and standing ovations followed, before he went off the stage, sending kisses out to the audience that has remained loyal to him for more than 50 years.
It was far after 2 am, when he left the arena for appearing at an official dinner in a restaurant at Piazza Bra, not even 300 metres away; but he could not reach it before 2.45. Not because he is such a slow walker – no. There were crowds of fans and admirers escorting him, asking him for autographs, congratulating him, or demanding a "selfie" with that man who had just sung a marathon of 3 ½ hours.
Since "patience" seems to be his second name, he did not send away anyone … he signed, he posed, he smiled, he greeted. At every step he took, cheers and bravo yells were heard from the different outdoor dining areas and balconies along his route.
Neil Amstrong may have been on the moon – Domingo, the man who created eternal moments in opera heaven, is still on earth. And grounded.
And it was far after 4 am, when his wife Marta (with whom he celebrated his 57th wedding anniversary only three days before) linked arms with him – and he escorted her with a bounce in his steps to their hotel.
He needed some sleep, before flying to Rome in a few hours. After all, the next anniversary event is short before: On August 7th he will sing a concert in the Baths of Caracalla, marking the 30th anniversary of the first, legendary "Three Tenors" concert.
Gabi Eder (published on 5 August 2019)